Today's Real Mom's Kitchen belongs to Cassandra W. She's a MOMS Club® friend of mine and I have visited her 50s eclectic vintage vibe home many times so I kind of knew what to expect from her kitchen, but learning the story of its transformation was a lot of fun.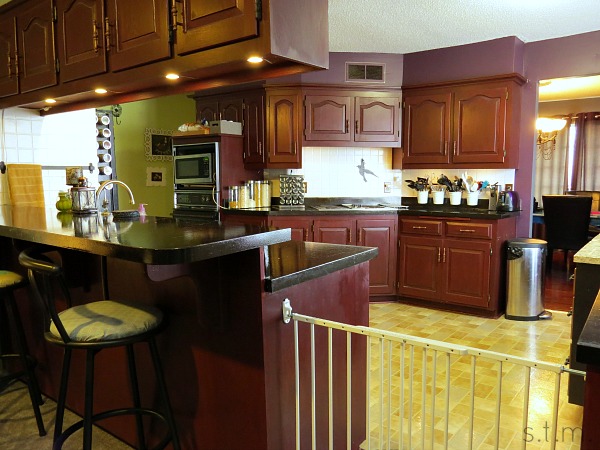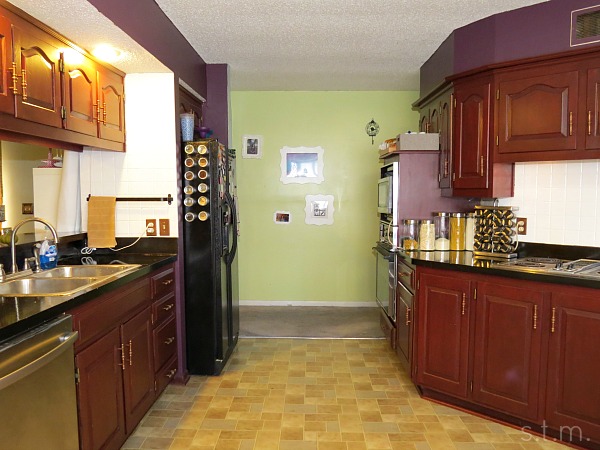 Other than being a stay-at-home (most of the time) mom, Cassandra is an actor, wedding planner, graphic designer, belly dance instructor and adjunct professor. Makes you tired just reading it, doesn't it? So where she and her husband had the time to remodel anything, I'll never know; but this kitchen is testament to the sheer will of a do-it-yourselfer. "My whole kitchen is DIY," Cassandra admits, and from top to almost bottom (because they haven't yet tackled the floors) this kitchen has felt her creative touch.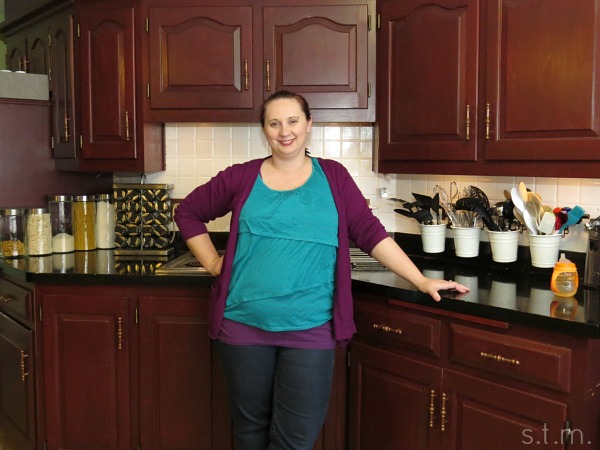 From the deep purple walls, glossy black countertops and once light oak cabinets, this kitchen has seen quite the transformation and hours of sweat equity. The countertops alone received six coats of color and two coats of a poly acrylic. One of my favorite transformations is the back splash, which is painted a nice bright white. Want to know what it looked like before? Just take a good look at the floor. . . yes, I said floor. Apparently the previous owners had painted the back splash to match the floor, but Cassandra rectified that little decorating misstep rather quickly.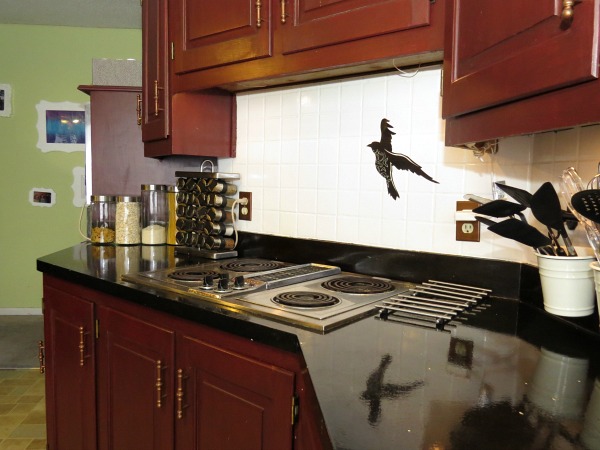 What I love most about her kitchen is the unusual shape that is so unique and makes for a rather large space, but Cassandra's favorite thing is the island. This storage and work space at the far end of her kitchen was a complete DIY build from items found at one of her (and my) favorite places, Habitat for Humanity's Restore. She pieced together a reasonably priced and functional island with a granite top by shopping at this second-hand builder's warehouse, and the result is beautiful.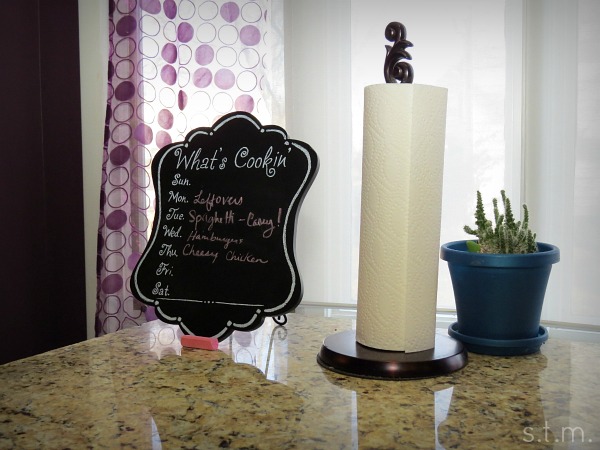 Speaking of granite tops, Cassandra admits she likes the look of granite but the jury is still out on what she will buy when the time comes to replace her current countertops. As far as stainless steel goes, her response was a definitive, "Oh yes;" although she admits that the new black stainless steel is quickly capturing her heart.
"I'm all about unique," remarked Cassandra, and I'm sure she will build on this decorating approach as she tackles her list of coming projects for this room. She wants new countertops, back splash and knobs, but also high on her list is to remove the old wall oven unit and install a new floor.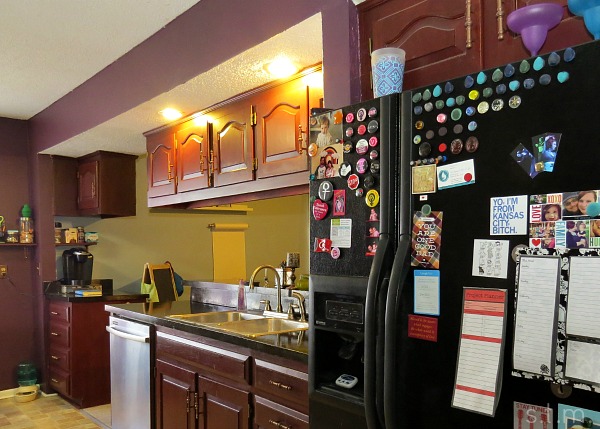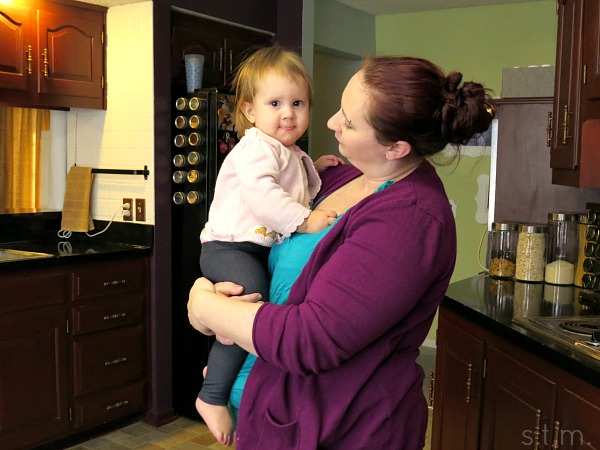 While this busy mother of one adorable almost two-year-old girl named Dahlia seems to find time to express her creativity in her home and work, she admits that cooking is not one of her favorite things to do. "If we could afford for me not to cook, we would do that more often, " said Cassandra, but she also added that with a tight budget she has learned to enjoy cooking more than she used to. Making food for her daughter is one of her favorites, but planning meals on a weekly basis has also helped take the "brain power" out of preparing family meals.
Luckily, Cassandra is sharing one of her favorite go-to recipes with us as we wrap up her wonderful DIY kitchen tour. It's a homemade spaghetti sauce recipe handed down from her grandmother, and Cassandra uses it for everything that calls for a red sauce, like spaghetti, pizza, etc. I personally can't wait to give this one a try.
Spaghetti Sauce
2016-03-18 09:26:41
A red tomato sauce that can be used for spaghetti, pizza, etc.
Ingredients
1 can tomato sauce
1 can tomato paste
garlic powder
onion powder
basil
oregano
1 bay leaf
Italian seasoning
1 tbsp. butter
Instructions
Melt butter in sauce pan on medium heat.
Add tomato sauce and tomato paste to the pan. Fill paste can with water and add to the pan. Stir together.
Add one bay leaf.
Add enough Italian seasoning, oregano and basil to lightly cover the top of the sauce.
Add onion and garlic powder to taste.
Cover and let the sauce simmer on low heat until ready to serve.
Adapted from her grandmother
Adapted from her grandmother
https://www.smalltalkmama.com/