Welcome to Small Talk Mama [version 2.0]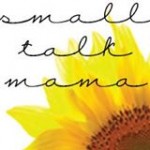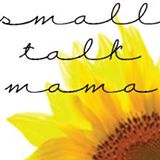 This little spot of blogginess was born in an effort to keep my mind and creative spark sharp during my days of stay-at-home motherhood. Before loving life as a forty-something Mom I enjoyed being a graphic designer, marketing specialist and high school teacher. I love this season of my life and all the opportunities it presents, so I've tried to find a little time to reflect, write, create, educate, laugh and record a lot of living along the way. Most of what you read here is just the musings of an average Midwestern mama trying to manage daily life by filling it will love, fun and the occasional ramblings.
After the complete crash of Small Talk Mama last fall, I lost almost two years of writing and threw in the white towel for the girl. I dabbled in a new blogging venture for a few months, but my thoughts kept returning here. I missed seeing the bright sunflower logo, the ring of 'Small Talk Mama' in my head and the crisp orange headlines announcing something new and exciting in my life. So I gathered what I could and started CPR. No, it won't quite be the same — posts have been lost, comments obliterated, my focus has shifted a bit and I'm rebuilding from almost scratch — but with all these changes I think there is still enough of Small Talk Mama to call it home, and I hope you agree that it's a good place to be.
THE GIRL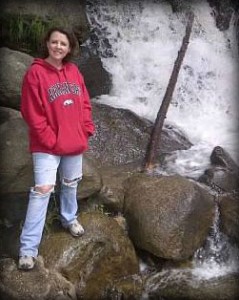 Yes, that's me on an average day — tennis shoes, well-loved jeans and a Razorback sweatshirt. I love God, my family, the outdoors, the Hogs and anything creative.
I graduated from the University of Arkansas in the 90s and enjoyed almost every minute of my education. Yes, as my husband likes to say, I'm one of those people — those people who truly enjoy learning. From a new language to a new craft, I like increasing my knowledge just for the fun of it.
On the flip side of the nerdy me, is the competitive and athletic gal who doesn't get out much these days. I used to thrive on organized sports and put my whole self into every game, but now that I pay my own insurance and am kind of attached to my current teeth I find that winning is sometimes not worth the cost.
Although I've hit forty-something, I usually still think of myself as twenty-something, but I do have an occasional day that sixty-something is probably more accurate. I'm almost twice the age of most of my MOMS Club friends, but, bless their hearts, they don't seem to mind. Sure we started our family later in life, but that allowed me to have two fulfilling careers, one as high school teacher and one as graphic designer/marketing gal, before I settled into a life I love as a stay-at-home mom.
On the occasional day that I have some not-completely-scheduled-playing-catch-up time on my hands, I enjoy most things crafty and DIY. I'll try just about anything, but my perfectionist tendencies sometimes get in the way. If I can't do something (anything) perfectly, I often don't ever get it started. Yes, I'm working on it. . .
Here's a quick run-down of other things I enjoy: exploring the outdoors, reading a good book (life's too short to finish a bad one), taking my son to the zoo, waterfowl hunting, traveling, scrapbooking, photography, home buying and selling (yep, who knew that could be a hobby, and a whole other story), and going to the movies. One of the best things to do on 100+ hot summer days, is to sit in a cool movie theatre for a couple of hours with hot buttered popcorn.
THE FAMILY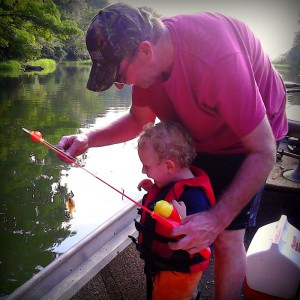 This is my husband and one of my biggest fans. He reads my blog, even on the days no one else will. He's usually game for one of my crazy ideas and my workhorse for most of my DIY projects. We are never on the same page and never see eye-to-eye, except when it comes to raising our son (and I guess that's a good place to meet).
This is also our just-turned-four-year-old son. I love this little guy so much and right now he is pretty much my world — being a stay-at-home mom has its privileges. As much as you'll read about him and his crazy antics, you probably won't see much of him. He's our precious little bundle of joy, and we try to keep his life smooth and secure. While I won't share his name or his cute little face (and he is as cute as they come), believe me his life is very well chronicled here at Small Talk Mama.
LIFE AT THE QUARTER-ACRE WOOD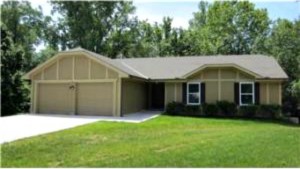 We've been living at the Quarter-Acre Wood for just over two years now. We set up home in an ugly reverse ranch on a quarter-acre neighborhood lot that pretty much slopes straight back into a few hundred acres of timber. Makes you want to stop by for a visit, eh? Well, let me just say that while the outside is not much to look at, yet, the inside had a complete neutral overhaul before we bought it and it's fairly large and homey. We've slowly, and I do mean slowly, made a few design changes to the girl, but hopefully the best is yet to come.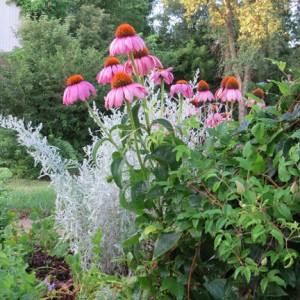 In addition to design and DIY decisions to the house itself, we have lots of room for improvement on the homestead. We like to garden. . . okay, I like my husband to garden while I reap eat the rewards. While my husband usually tends the vegetables, I focus on the flowers. Unfortunately with entire herds of ravenous deer scaulking about, planting new flower beds has been trial and error and a test of sheer determination (mine and the deer). In addition, we try to keep our son in mind when making yard and home decisions, because after all this is his learning and play space (inside and out) and I want him to enjoy life and expand his ever-increasing imagination.
The home at the wood is child-friendly, but not little person proof. It's also good for Mom and Dad, welcoming for guests, contains creative and productive spaces and is roomy enough to put down roots (figurative and literal). It's not perfect here, but it's real and we're blessed.
Disclaimer: This blog reflects my own personal views and opinions. All information provided here, including recommendations, should be used for informational and entertainment purposes only. The author should not be held liable for any errors, incompleteness, delays or any actions taken in reliance on information contained herein.
CONTACT ME
.