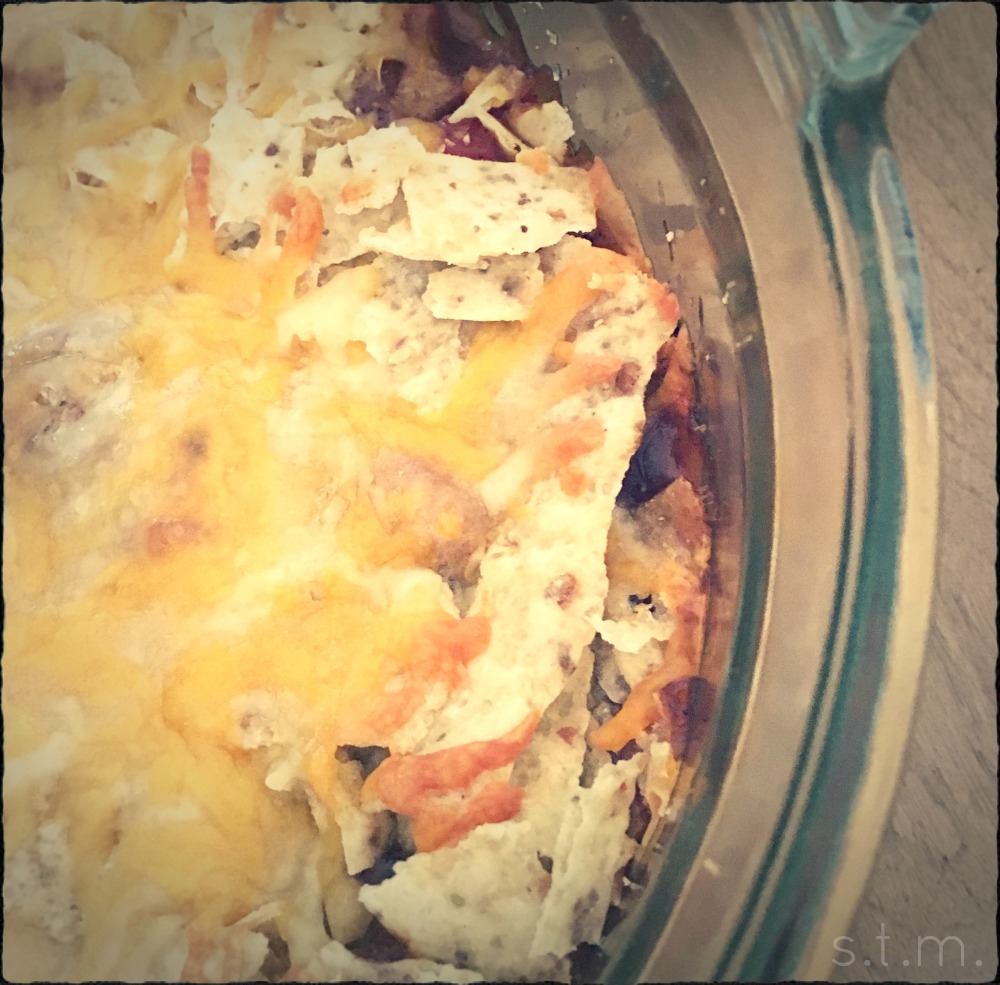 This past week was VBS prep week and, as many of you know, it's a seriously hectic time of year for me and one in which I certainly will never win the nurturing wife and mother of the year award. As Vacation Bible School coordinator for our little Baptist church I wear many hats, including lead decorator and organizer, so I usually spend way too many hours at the church while the laundry, family meals and perhaps just plain good hygiene go out the window (just so you know, although I've heard a gal can turn her underwear inside out in a pinch, I've never actually given it a go).
During prep week I'm usually exhausted, I hardly see my family and a clean house and home-cooked meals are completely out of the question, but maybe I'm starting to get the hang of this gig because I actually invented dinner for my family Thursday night and it was actually quite tasty. So yummy in fact that I decided to share this super quick recipe with you — I think I'll call it VBS Mexican Chicken Casserole (you can call it whatever you want, I suppose *grin*). I wouldn't consider this a healthy dish by any stretch, but I've certainly served my boys much worse.
The idea started with frozen chicken breasts and half a bag of tortilla chips I had on hand, which somehow translated to a casserole in my mind. As I started searching for Mexican chicken recipes, I found loads of tasty looking meals, but I was missing a key ingredient or it sounded way too complicated. Our provisions were low and I certainly didn't have the motivation to make a run to the grocery store. Did I mention it was VBS prep week? So as the chicken was boiling on the stove, I decided to throw together a few ingredients from our cupboard to make my own concoction, and if you find yourself in similar circumstances I gotta say you might want to give this quick and easy recipe a go.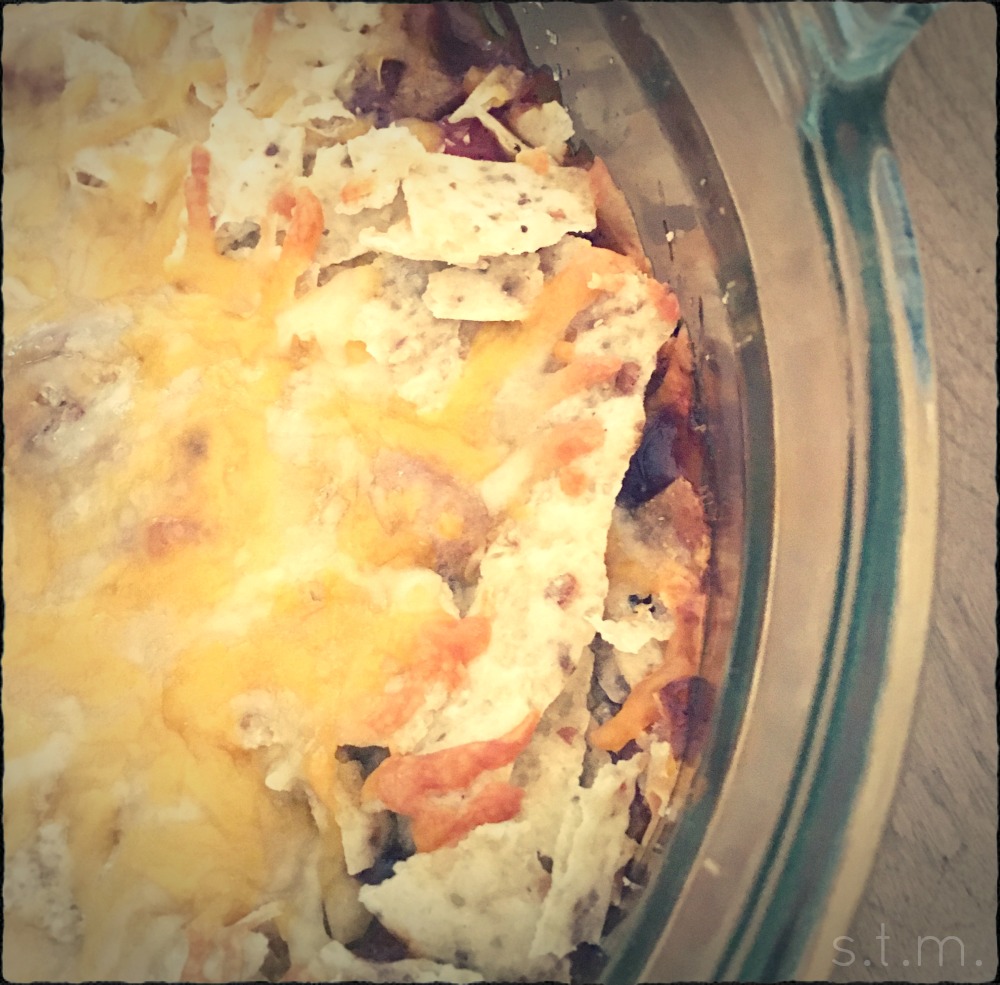 VBS Mexican Chicken Casserole
2017-07-16 19:34:16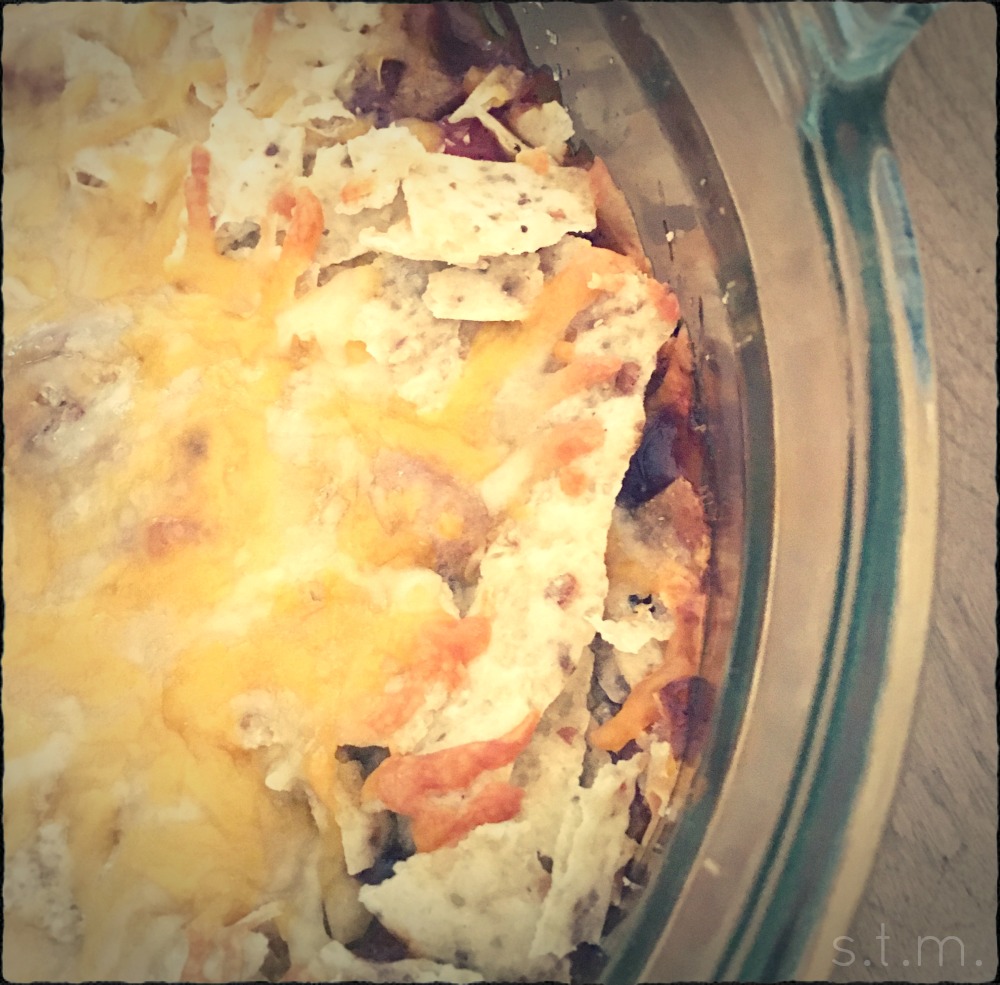 Serves 8
A super easy Mexican meal for mid-week dinner in a hurry.
Ingredients
1/2 bag of tortilla chips
3 chicken breasts (cooked)
1 can petite diced tomatoes
1 can cream of chicken soup
1 pkg taco seasoning
3 cups shredded cheese
Instructions
Preheat oven to 350 degrees.
Mix tomatoes, soup and seasoning together in a mixing bowl.
Oil or spray a 9x12 cooking dish to prevent sticking.
Coarsely crush tortilla chips and lightly cover bottom of the baking dish.
Shred cooked chicken and add to the baking dish on top of the chips.
Next add the soup mixture, smoothing it out evenly on top of the chicken layer.
Sprinkle two cups of shredded cheese on top of the soup layer.
Next add the rest of the crushed tortilla chips and sprinkle with the remaining shredded cheese.
Bake uncovered for 20 - 25 minutes until it bubbles and cheese is completely melted.
Notes
Serve with a bit of salsa on top for added flavor.
https://www.smalltalkmama.com/