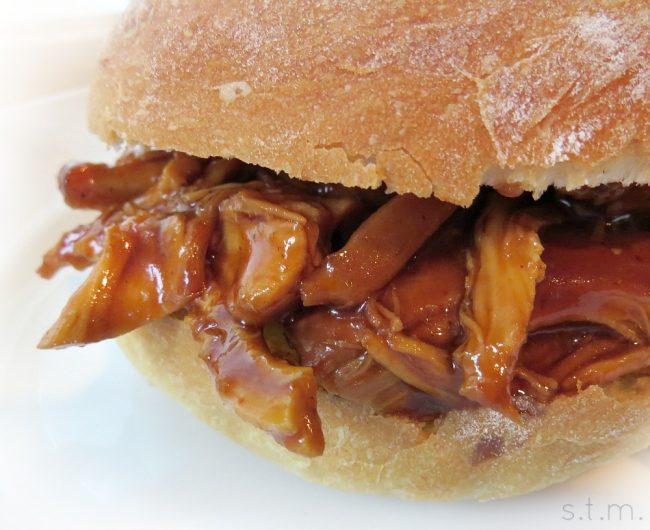 Now these are some good buns, hun (it had to be said)! My latest bread machine creation is a winner, so I just had to brag a bit, but I'm also sharing one of my favorite go-to recipes with all of you so please forgive me for being so pleased with myself. I just get super excited when a new recipe tastes like it should when it comes from my kitchen. . . sad, I know.
I made hamburger buns using the dough-only setting on my bread machine and came up with some of the tastiest (fresh and preservative-free) buns we've ever had in this house. So a couple of them were a little large, but most of them turned out like. . . well, buns; and when I added my barbeque pulled chicken into the mix a delicious family-pleasing meal was born.
You can print the chicken recipe below; but first, here's a quick how-to for the buns. I used the Butter Roll recipe that came with my bread machine using the dough-only option so that everything mixed together properly but didn't cook. I then shaped the buns by pulling apart small wads of dough and making bun-shaped rolls on a piece of parchment paper. I let the buns rise and then cooked them at 350 degrees for approximately 20 minutes. When they were done, I sliced them in half and stored the leftovers in the refrigerator. . . and the tuna salad I had on a bun a couple of days later was also delicious.
Okay, so the buns were a bonus, but here's the best part of this meal — the barbeque pulled chicken. I discovered this recipe a couple of years ago and have tweaked it a bit along the way. My family loves this stuff and it's also easy to whip up a large batch when people are coming for dinner. So here's the recipe. I hope you enjoy!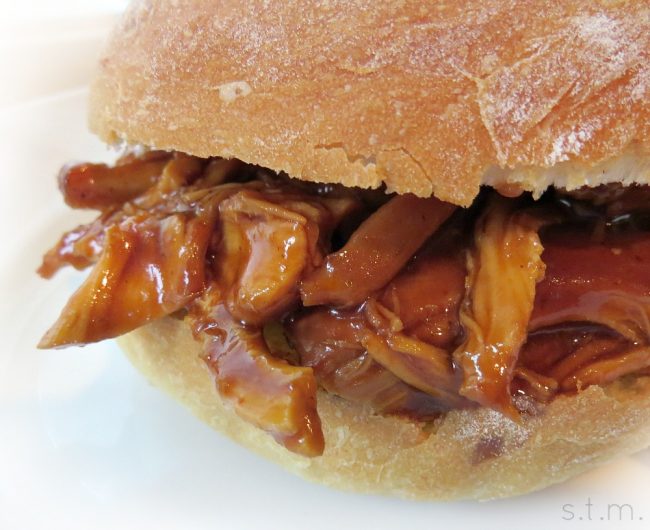 Barbeque Pulled Chicken
2016-08-10 18:34:44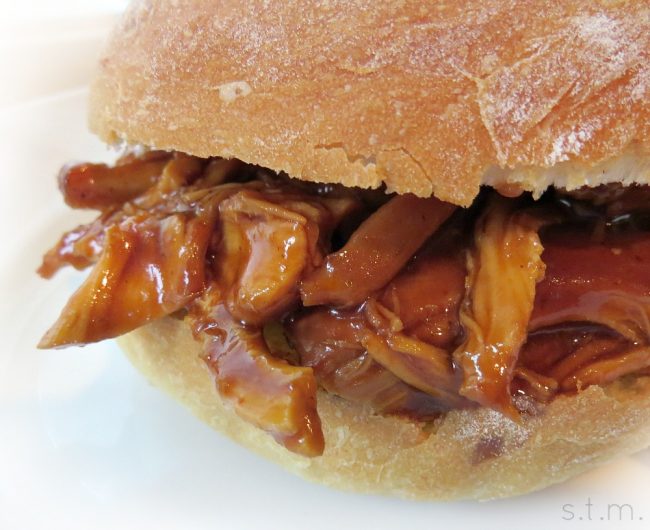 Serves 8
A chicken recipe that tastes similar to pulled pork (the other white meat). 🙂
Ingredients
6-8 frozen skinless, boneless chicken breast halves (thawed)
1 large bottle barbeque sauce (28 oz)
1/4 c Italian salad dressing
1/4 c brown sugar
2 tbsp Worcestershire sauce
Instructions
Place the thawed chicken breasts in a crockpot.
In a separate bowl, mix up all the other ingredients.
Cover the chicken with this mixture.
Cook in crockpot, approx. 6-8 hours on low or 3-4 hours on high. Please use recommended chicken standards when deciding how long to cook this dish.
When the chicken is completely cooked, use two forks to pull it apart.
Serve hot on hamburger buns.
https://www.smalltalkmama.com/