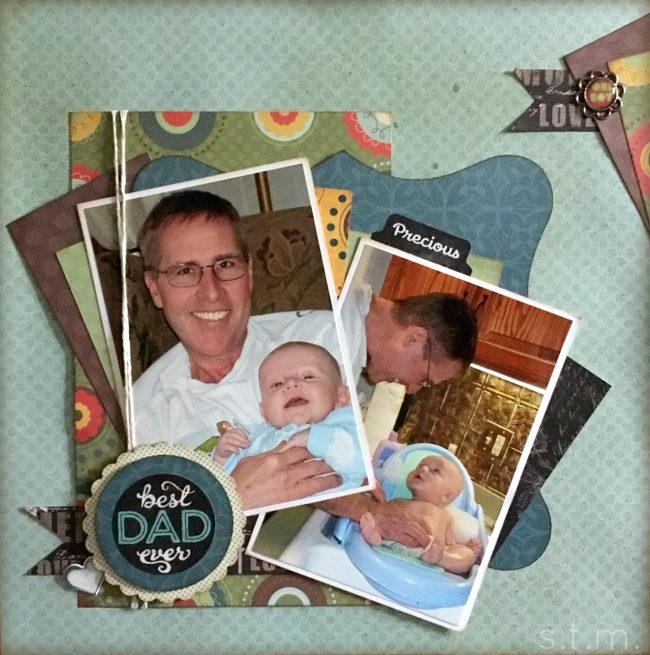 It's no secret that I love creating cards and I often take part in various creative challenges to boost my stash of salutations, but last week I stumbled upon a couple of sites that offer monthly scrapbook challenges that look like a whole lot of fun. And let's face it, I really need to crop more if I ever hope to make a dent in all my memories stored out there on Shutterfly.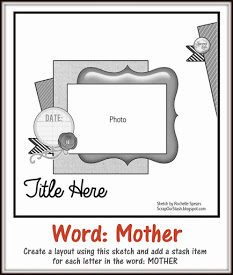 So this weekend I decided to take a stab at the Scrap Our Stash May Sketch Challenge, because not only is it a sketch challenge but also a creative brain teaser. They provide visual inspiration but I had to incorporate elements for each letter of the word "MOTHER" from my stash of scrapbooking supplies, which proved a bit more difficult than I had originally thought. Regardless, I did it! And I had a lot of fun raiding my supplies and figuring it all out for this one-page layout for 2011.
I used Signature's Family collection for most of my paper choices, but the black/brown paper came from Prima's Engraver collection. To fulfill the acrostic portion of this challenge I added the following items from my scrapbooking stash:
M: I spritzed green Glimmer Mist on the background.
O: I placed an ornamental brad that says "Oh Boy" at the top right.
T: I used two photos, twine and a tab (I got this one covered).
H: There is a small metal heart at the bottom left of the layout. It started out shiny white, but I sanded it a bit to take off the shine and reveal the silver around the edges.
E: This one was tough for me, but luckily my son's name starts with an "E" and he is in both pictures. Is that cheating?
R: The word "precious" is a white rub-on that I didn't even know I owned. See, this scrap your stash thing is already working out for me.
If you're looking for a little creative cropping motivation, I suggest you join me at Scrap Our Stash and give one of their challenges a go. They also have a Tic Tac Toe challenge that looks like a lot of fun.