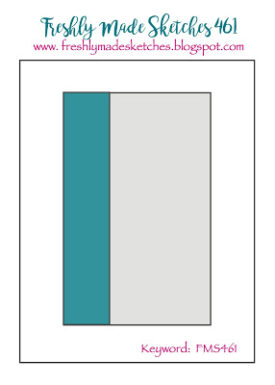 I need to get my card-making mojo back because this simple sketch took four tries to produce something that cut the mustard. Sometimes that happens when I have fewer constraints. Somehow it's harder to focus on one idea when the sky is the limit. Still, I managed to create a cute little spring inspired card for this week's Freshly Made Sketch challenge, which helped ward off today's gray sky blues.
I used Simple Stories' Vintage Bliss 6×6 paper stack for this card and flipped the sketch on its side. I used two different scallop punches for the accent pieces, tied ribbon along the top and, of course, inked all the edges.
I know most people are probably focused on fall or Christmas cards right now, but since I rented a booth at a resale shop I try to keep it stocked well ahead of the next holiday. I price my cards at $2.00 each and usually sell a few each month. It's a great way to stay creative, share a little cheer and get a monetary reward in return.