So I couldn't stop with just two cards for this week's Freshly Made Sketches challenge, because the sketch was such a great jumping off spot for all kinds of fun ideas. For this interpretation, I flipped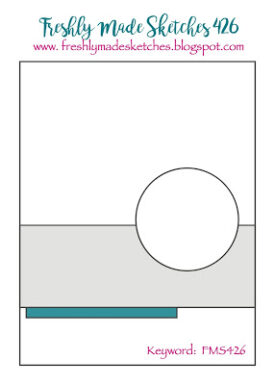 the card on its side and turned it into a sunflower shaker.
I stamped the flower on watercolor printed cardstock and added a patterned piece from MME's Pretty Things paper collection. I used a handheld circle punch to create the center of the flower, punching each piece of paper separately before adhering them together. I added some fun sequins to a photo sleeve pouch that I created just the right size and then popped up the whole front of the card with thin foam strips. Lastly, I added my sentiment and that was all it took to finish off this fun little creation.
This card has some "pop," but it is still thin enough to make it through the mail without added postage!