Well I didn't see any new ground breaking scrappy inventions today at the Creating Keepsakes Convention, but that didn't stop me from finding some good deals. I bought several types of sticker sheets for next to nothing, several embellishments and some cute decorative papers.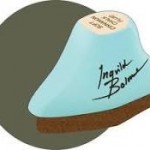 I also bought a couple of colors of Ingvild Bolme quick dry fluid chalk ink and really like how they perform. For $2.00 each, I'll probably scoop up a few extra colors tomorrow. These inks are roughly the size of Cat's Eye inks, but one edge of the inking surface is flat and they have a bit more area to grip while stamping. I am really impressed with the white ink I bought, because it actually has some pretty good opacity to it.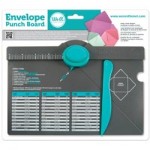 I did give the We R Memory Keepers Envelope Maker Punch Board a whirl while I was shopping, and I would rate it as an okay tool to have in my home craft arsenal but definitely not an essential. The best thing about this product, in my opinion, is the measurement guide printed on the front of the board. You can look up your finished card size and easily see what size envelope paper with which to start. For folks who normally make a lot of their own envelops this might be useful, but for me it just wasn't that impressive.
Tomorrow is class day at the convention, starting with a Button Farm project, so I'm really looking forward to another creative day in Tulsa.