Sometimes I just get a craving for something specific, and last week it just happened to be chicken tortilla soup. I suggested that the fam run to a local restaurant to satisfy my hunger, but after some research and facing a huge ding to my daily WW points I decided to go with the healthier homemade option instead.
My sister made a similar soup when she was on Weight Watchers a couple of years ago, but neither of us bothered to write down the recipe. When I called her for the ingredients, it took both of us to remember what actually went into this hearty dish. Apparently, our memories are pretty sharp, because the batch I whipped up for dinner (and a couple of lunch leftovers for myself) was very tasty! With this warm soup in my belly and the ingredients listed on my blackboard wall, I thought I should share this recipe so I don't have to call my sister again and listen to her sigh on the other end of the line. Love ya, sis! Enjoy!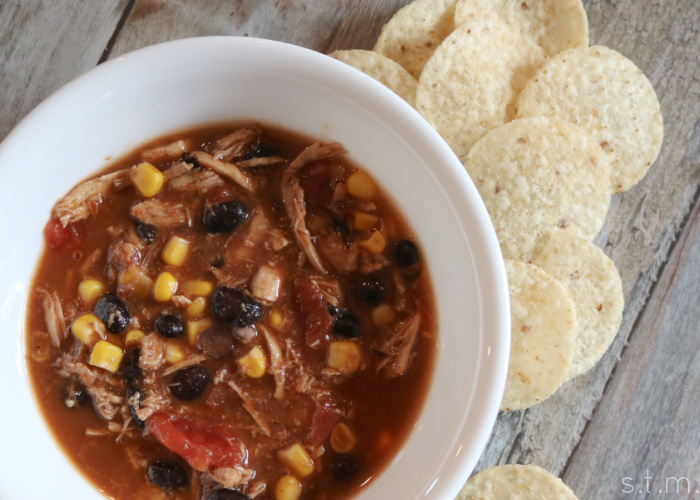 Chicken Tortilla Soup
This hearty soup is super tasty and easy on your daily WW (Weight Watcher) points.
Adapted from a Shari Willis recipe.
Ingredients
3-4

chicken breasts

2

cups

chicken broth

1

can

black beans

1

can

Rotel

1

can (small)

tomato sauce

1

small can

whole corn

1

pkg

taco seasoning

1

cup

water

Tortilla Strips

optional

Fat-Free Cheddar Cheese

optional
Instructions
Cook the chicken breasts, cool and shred into bite-sized pieces.

In a large pot, dump the chicken and all remaining ingredients, except tortilla strips and cheese.

If the soup is not juicy enough for your liking, add more water a little at a time.

Turn down the heat, cover and simmer for 30 - 60 minutes.

Serve hot with optional garnish of tortilla strips and cheese.
Notes
My family enjoys spicy foods, so I added a bit more taco seasoning to my soup. This recipe is super easy to adjust to your own taste.