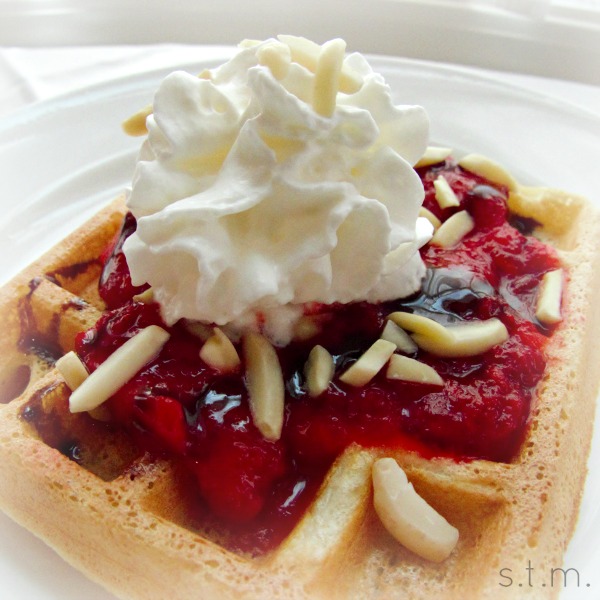 Of all the mealtimes and all the varied dishes and delicacies in this world, those most associated with the earliest hours of the day are my favorite. I love breakfast. . . and sometimes not only during the a.m. hours. Occasionally we like to prepare a special dinnertime treat, by making waffles or pancakes, eggs and bacon for our evening meal. Somehow it seems so rebellious, but oh so good!
When it comes to my pancakes and waffles, I'm not a purist, going for butter and syrup. Instead, I like to dress mine up with something special. By the time I'm done with a waffle, it's kind of like a meal and dessert all in one. What could be better? By adding some fruit, whipped cream, a drizzle of chocolate syrup and some slivered almonds on top, I can take a waffle from whah wa to wow wee in just seconds. Just think about it, a "wow" waffle now has an extra dose of protein, dairy and fruit to start (or end) the day off great.
So speaking of nuts (the power-packed food, not me), specifically almonds, the folks at Nuts.com have started a new healthy recipe campaign this Spring to hail the NUTritional punch in each little bite. Of course, when they asked me to participate, I immediately jumped on the nut wagon and started thinking about one of my favorite healthy snacks — almonds.
Almonds are a must around this house. Raw, roasted, smoked, covered in chocolate or sprinkled on waffles, I can eat almonds just about any day and in any way. Just a handful of these nutrient-rich nuts packs a healthy punch of vitamins, minerals and protein in a delicious little nibble. While a small bag for the road is a great on-the-go snack, you also might think about adding almonds to your recipes to reap the benefits of this energy-rich food.
If you're looking for a way to start your day with almonds, you should try my Belgium Waffle with the Works recipe below. I promise you will enjoy. Now if you're looking for a weekday morning recipe with a bit more speed and a little less hassle, I'll share a quick chocolate-almond pancake idea with you tomorrow.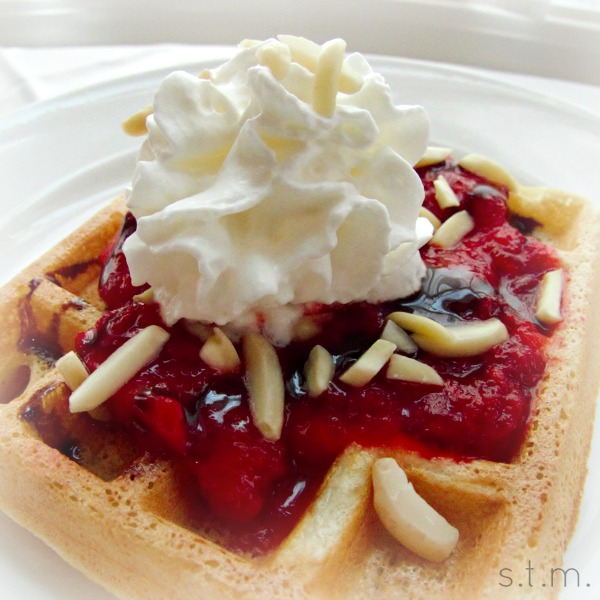 Belgium Waffles with the Works
2015-04-21 11:00:02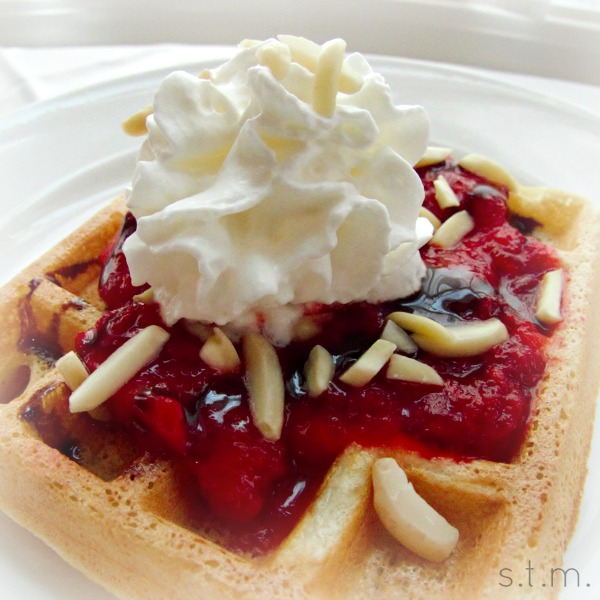 Delicious breakfast Belgium waffles with all the good stuff on top.
Ingredients
1 3/4 c all-purpose flour
1/4 c corn starch
2 tbsp. powdered sugar
1 tbsp. baking powder
1 pinch salt
1 tbsp. vegetable oil
2 c milk
1 1/2 tsp vanilla
2 eggs separated
fresh or frozen sliced strawberries
chocolate syrup
whipped cream
slivered almonds
Instructions
Mix all the ingredients (including the egg yolks) together, except the egg whites.
Beat the egg whites until small peaks form. Add the egg whites to the mixture, but do not over stir.
Spray your Belgium waffle maker with cooking spray. Pour in the appropriate amount of batter for your maker and cook according to manufacturer's directions.
When your waffle is finished cooking, top with strawberries, a light drizzle of chocolate syrup, a dollop of whipped cream and a sprinkle of slivered almonds.
Notes
You can satisfy your nutrient level or taste preference, by switching out waffle toppings.
Adapted from various sources
Adapted from various sources
https://www.smalltalkmama.com/