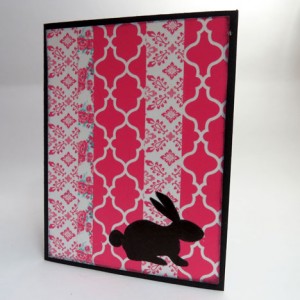 This week's Operation Write Home Throwdown Challenge is all about the background. They dared us to use our scraps to create a cute background for a simple image card, but I kind of bent the rules a bit. I've been wanting to try out some washi tape I've had lying around my craft room for some time now, so I used it instead of paper to create the backdrop for my cute little Easter card.
After the background was complete, I used a bunny stamp and StazOn ink to create a simple black contrast on the front of my card. I did have to color over the bunny image with a permanent black marker to get the coverage I desired, but it turned out pretty cute (even up close).
Click on image to enlarge.