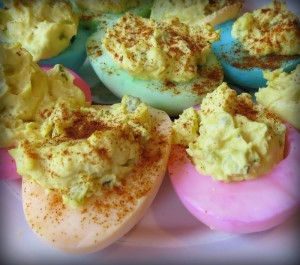 Okay, so y'all have to promise not to make fun of me when I fess up to this juicy little tidbit (unlike my mother who actually laughed when I came to her for some guidance). Okay, here goes. . . before this weekend I, at 40-something-years old, had never made deviled eggs. Yes, I know, it's shocking but true!
I've wanted to make them for years, but someone always beats me to the egg boiling, yolk whipping and paprika sprinkling punch. So, since I was hosting Easter dinner this year, I kind of assigned the side dishes and kept the deviled eggs for myself. No pressure or anything.
Since I wanted to impress my friends and husband's family with my deviling debut, I turned to one of my favorite classic cookbooks and mixed that recipe with a few tips from dear old laughing Mom. I also added a punch of color by dying the peeled egg whites various shades of the rainbow — idea courtesy of Pinterest.
This whole process was so easy and the outcome was delicious. I just can't believe I waited so long to try my hand at these little guys. I mean, who says you can only serve deviled eggs at family affairs and picnics? So if your Easter baskets runneth over, here's a tasty way to eat up several of those eggs instead of sprinkling salt on hard boileds for two weeks straight.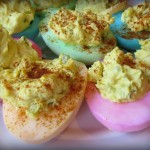 Deviled Eggs
2015-03-01 07:32:29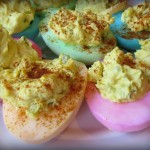 Traditional deviled eggs
Ingredients
6 hard boiled eggs
1/4 cup mayonnaise
1 tsp prepared mustard
1 tsp dill pickle juice
1 or 2 finely diced dill pickles
Paprika
Salt
Pepper
Instructions
Halve hard-boiled eggs lengthwise and remove yolks.
Place yolks in a bowl and mash with a fork.
Add mayonnaise, mustard, pickle juice and diced pickles.
Season with a couple of dashes of salt and pepper.
Mix the yolk mixture together well.
Stuff the yolk mixture into the white halves.
Sprinkle with paprika.
Notes
If you want to color the egg whites, simply place them in various colors of egg dye for a few seconds before stuffing with the yolk mixture.
Adapted from Better Homes & Gardens New Cook Book
Adapted from Better Homes & Gardens New Cook Book
https://www.smalltalkmama.com/