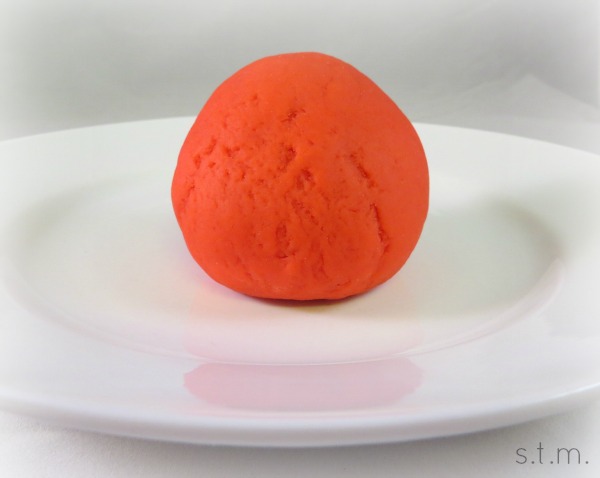 We finally tried the Jell-O playing dough thing this weekend, and mom and son gave it two thumbs up. . . oh, and also dad, because he actually gave it the taste test since it smelled so good (not like he snacked on it, just a nibble). We used the recipe from Modern Parents, Messy Kids, but I have seen similar recipes all over the web.
We made raspberry dough because I had it on hand, which made the pinkish red colored dough that you see here. My son enjoyed mixing all the ingredients together, but quickly tired of the stirring and kneading steps; although he magically reappeared for the play/testing phase. The cooking process didn't take that long, just remember to keep stirring until you really can't stir any longer. Also, I probably kneaded an additional cup of flour into the dough to get rid of the stickies, so just keep "kneading it in as needed" (ha, get it). When it was finished, I admit I was completely surprised by how much it actually felt like the real thing, and this recipe makes enough for at least a couple of kids to enjoy.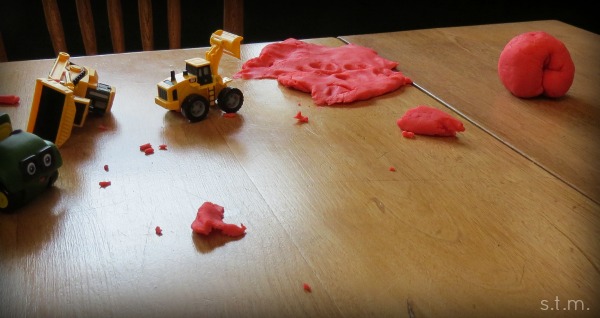 Our son played with his newest creation for over an hour Saturday afternoon, and afterwards, we plopped it into an airtight container and put it in the refrigerator until the next play day. According to Modern Parents, Messy Kids, the playing dough should last at least a few weeks if properly stored in the fridge.
So if you have a hankering for some homemade fun, here's the recipe you should use: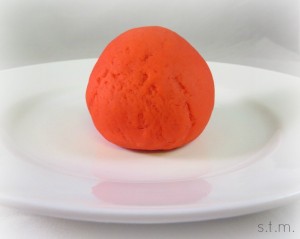 Jell-O Playdough
2015-03-02 11:52:41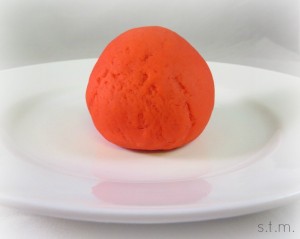 Homemade playdough that feels like the real thing.
Ingredients
1 c white flour
1 c warm water
2 tbsp. salt
2 tbsp. cream of tartar
2 tbsp. cooking oil
1 Jello pack (3 oz.)
extra flour for kneading
Instructions
Mix all of the ingredients (except extra kneading flour) together in a small saucepan until the lumps are gone.
Cook over medium heat, stirring continuously until it thickens into a big ball of dough. (Stir until you can't stir anymore.)
Turn out the dough on a flour covered surface, cutting board or mat.
Let the dough cool.
Add flour and knead the dough until it is no longer sticky (1/2 cup to 1 cup of flour).
Notes
The dough should stay good for a few weeks if placed in an airtight container and kept in the refrigerator.
Adapted from Modern Parents, Messy Kids
Adapted from Modern Parents, Messy Kids
https://www.smalltalkmama.com/
Shared at:
Green Willow Pond