My little guy started school this week and amid all the hurry and scurry that comes along with adjusting out of summer mode and into full-on "my child is growing up way too quickly" mama mode, I managed to create a cute little something for our son's first grade teacher.
Thanks to Oriental Trading, I had some great wood slices on hand that were intended for a fun fall project (coming soon), but when I saw one of the oddly shaped pieces my brain translated it into an apple instead. In my opinion, one should always keep the teacher happy (and yes, cool gifts and kind words are always a good thing).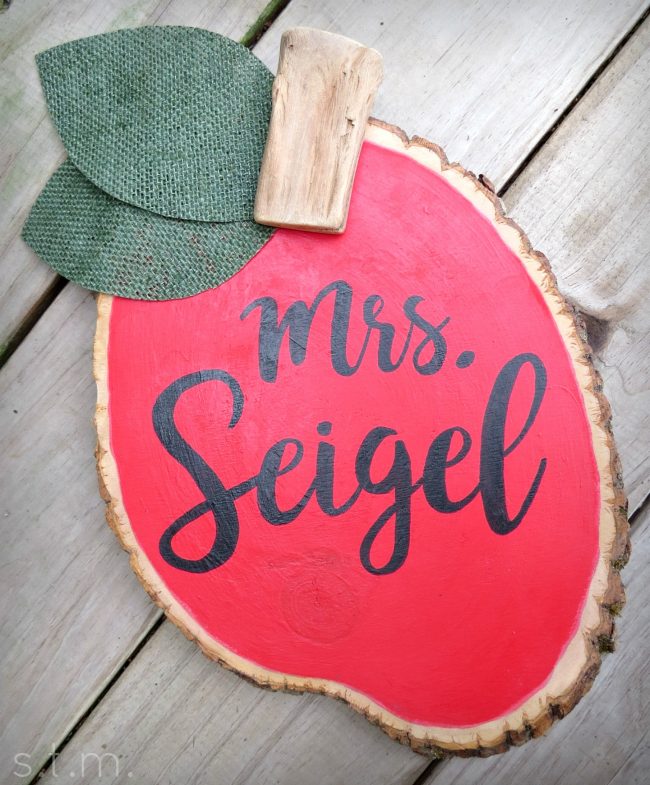 To create this super cute project I started with some bright red acrylic paint and a medium brush. I used the dark inside line of the wood slice as a pattern instead of painting all the way to the edge, I gave it about three coats for some solid coverage and I let it completely dry.
For the name, I created and printed a template on my computer and trimmed it close to size. Then I covered the back of the template using a piece of chalk turned on its side. I placed the template on the painted wood chalk side down and traced around the words using a sharp pencil, and when I removed the template I had a near perfect outline on my apple. The good thing about this process is that if you mess up or don't like the placement, just wipe off the chalk line and start the process over again. Thankfully I got this one right the first time, so I immediately started painting in the name using a standard black permanent marker. After the marker dried for a few hours I wiped on a coat of furniture wax, let it dry and wiped it back off for a bit of shine and protection.
I used a chip of drift wood (super cheap and sold in a bag) for the apple stem and a bit of green burlap for the leaves. I lightly coated one side of the burlap with Mod Podge before I cut out the leaves to add some stiffness to the material . It also keeps the burlap from fraying so much. I glued the leaves and the stem on with some heavy-duty craft glue and let it set overnight.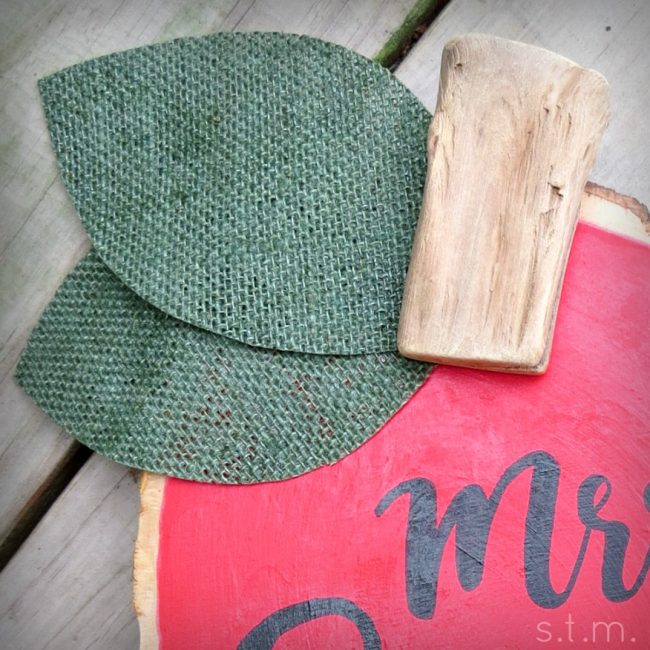 Before I sent it out the door with my little one, I hammered in a sawtooth hanger on the back and this teacher gift was complete. Although my husband thinks I'm trying to butter up our son's teacher just as the year gets going, I did get a super sweet thank you note, and I think it's fun to do a little something for our educators. . . goodness knows they have such an impact on the future of our children.
If you're looking for some great teacher gift ideas of your own, try visiting Oriental Trading's Learn365 page for all kinds of supplies and ideas.
Oriental Trading sent me some of these products used in this project for review,
but all opinions are my own.