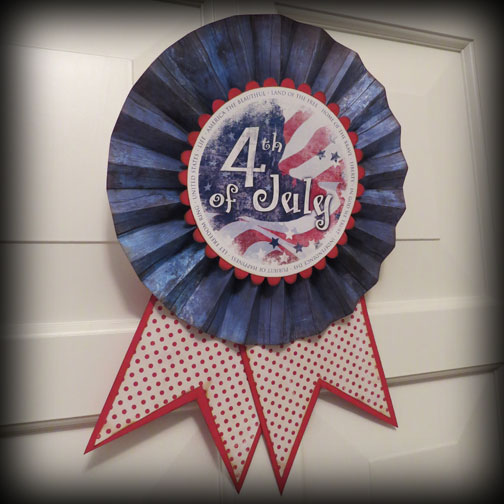 Today I'm showing you the newest addition to my patriotic home decor, complete with easy instructions and printable. This door-sized rosette was easy to make and you should be able to whip up your own in about half an hour or so — just in time for Independence Day.
Materials:
Three pieces of red cardstock – 8 1/2 x 11″
Two pieces of decorative blue paper – 12 x 12″
One piece of coordinating decorative paper – 12 x 12″
Paper adhesive
Small piece of twine (for hanging)
Craft Glue
July4Rosette printable (pdf)
Dark brown ink pad
Instructions:
First, let's make the large blue rosette portion of the project by cutting the two pieces of blue paper in half so that we end up with four pieces of 12 x 6″ strips.
Ink the outside edge of each piece with the dark brown ink pad. Score each of these pieces at every inch and according fold.
Using adhesive, connect all these pieces together. Keeping the paper flat, fan out the pieces in a circle and adhere the two ends together to create the rosette. To keep this crazy thing flat while you work, you can place a light-weight book or magazine on top of the newly formed rosette.
Next, we'll make the center of the rosette by cutting one piece of red cardstock into a circle approximately 8″ in diameter. I used my Cricut to cut the scalloped edge, but you can use whatever you have — cutting machine, decorative scissors or circle cutter.
Ink the edges of the circle and glue to the center of the rosette using paper adhesive or glue.
Print out the July4Rosette rosette center and cut into a circle, about an eight of an inch away from the outside words. Ink the edge all the way around and adhere to the red circle.
To create the tails to the rosette, cut the two remaining sheets of read cardstock down to 6 x 11″ and then cut a triangle out of each piece to form the banner shape. Ink the edges.
Cut the coordinating sheet of decorative paper to create two pieces that are a half inch smaller than the cardstock tails and cut a coordinating triangle in each piece. Ink all the edges and adhere to the cardstock tails.
Adhere the completed tails to the back of the rosette at whatever angle you like.
After everything is assembled, cut a short piece of twine and tie a loop for hanging. Flip over the rosette, add a dab of glue and adhere the twine loop.
When the glue dries, hang your welcoming rosette for all your guests to see.