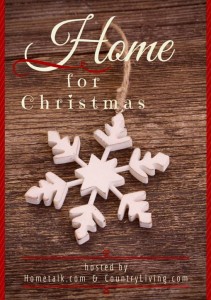 Welcome to the 2015 Home for Christmas blog hop hosted by Hometalk.com and Country Living.com. I'm so excited to be a part of this fun and can't wait to share a little Christmas decorating tip with you. You also might want to grab a cup of cocoa (with loads of mini marshmallows), find a comfy chair and follow all the other bloggers along the way. You can also follow the hop at #homeforchristmas.
Plaid is absolutely the bomb right now. . . wait a minute, I don't think "the bomb" is the bomb right now, but eh, I'm going with it anyway. If you are as mad for plaid as I am, I have an easy and affordable way to add this colorful tartan to your holiday décor.
You could venture out to find just the right kind o' plaid ribbon spools to fit the bill, but these seem rather difficult to come by and often don't successfully mimic the original. Instead, shorten your quest for perfection by just buying the real thing. That's right, purchase a few yards of actual plaid fabric (which comes in a huge variety of colors and patterns) at your local craft or sewing store and cut it into strips to use wherever you normally would ribbon.
Simply decide how wide a strip you need, make a small cut in the fabric and tear it to full length going with the grain. This tearing technique gives your tartan pieces a more rustic look and let's you decide exactly how wide your fabric "ribbon" will be for each specific use. Here are just a few uses for tartan tidbits around my holiday house, but the sky's the limit when it comes to plaidifying your place.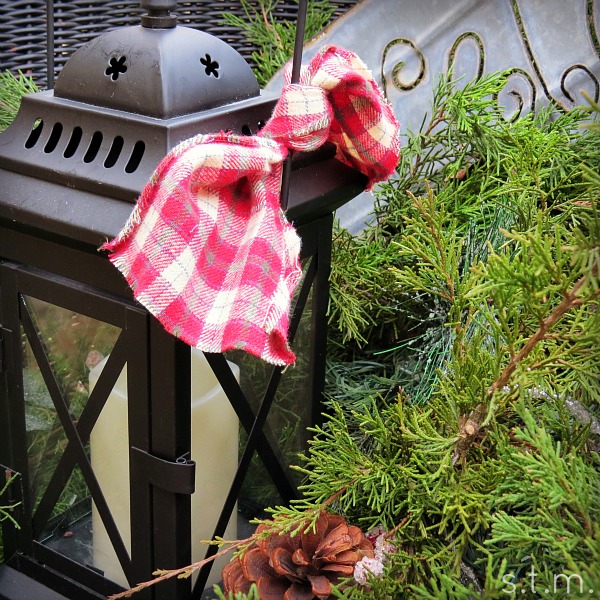 This little lantern vignette sits in the front porch wicker chair that has been stripped of its cushions. The little touch of tartan adds a whimsical and rustic flare to the my Christmas decorations.
My son and I took a nice stroll into the woods this week to cut the evergreen boughs that adorn my childhood sled. The skates were a garage sale find from many years ago.
These homemade plaid bows are perfect for the store-bought faux pine wreaths that hang in my two front windows. It's almost as if I cut up one of my husband's cozy shirts to give our home a warm hug for the holidays.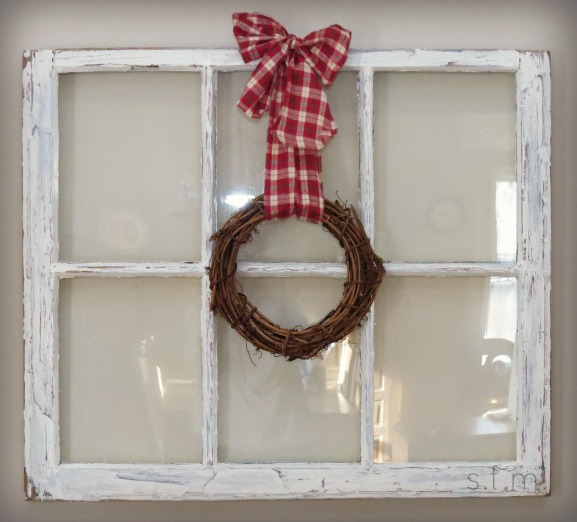 These petite grapevine wreaths hang in the decorative windows in my living room. I used to hang them with ribbon, but in my search for the perfect plaid I found that cutting strips of material just the right width was a better solution.