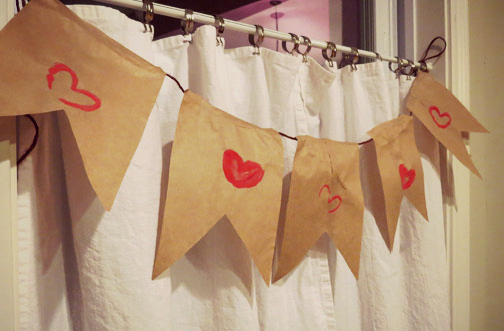 Last year my son (three years old at the time) and I spent part of a cold snow day creating a cute little Valentine project for aunts and grandmothers (of course I kept one for myself). Although they all might have been a bit biased, these cute little banners were a hit; so today I thought I would re-share our kid-friendly craft with all of you. I came up with this quick banner idea by combining a couple of Pinterest projects with some of my son's favorite things — paint and glue.

 To create your own Valentine banner you will need:
brown paper lunch bags
empty toilet paper/paper towel roll
red washable paint
scissors
glue
string
To begin the project, cut a paper bag right above the bottom fold. Then cute along the two outside edges to give you two rectangular banner pieces. If you want, you can cut a triangle out of each of those pieces or just leave them square on the bottom. Cut as many bags as you desire for your project. If your child is old enough to handle the scissors, great but make sure an adult supervises this task (I let my three year old, cut on some scrap pieces, but he wasn't up for the first part of this project).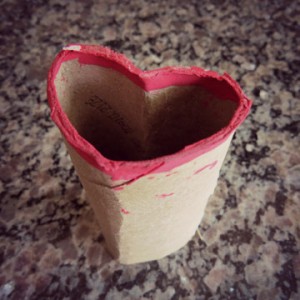 Next, shape the empty toilet paper roll into a heart. I started by creasing the top inward, being carefully not to make creases in the rounded parts of the heart, and then I creased the bottom point of the heart. After you have the shape to your liking, pour some washable paint on a paper plate. Have your child grasp the TP heart roll around the middle to hold its shape, dip an end into the paint and stamp it onto each banner piece. Your child can redip as necessary.
After the paint dries, flip over each banner piece and run a bead of glue along the top of each one. My son loved doing this and it really didn't matter that he got a little sloppy (you might want to cover your work space before this step). Meanwhile, I cut string long enough to span each banner with a small gap between and extra for tying off at the ends. After the glue was in place, I came along and pushed the string into each bead of glue. We let it dry over night and by the next day we had a truly heart-warming Valentine banner to hang about the house.
If watching your youngest glue paper bags to his fingers, the table and the cat is not your idea of a good time, you might try one of these alternative methods. 1) Punch a hole at the top of each side of your banner pieces and run the string through the holes to create your finished banner. 2) Fold the top of each banner piece over the piece of string and staple the flap in place to create your finished banner. Which ever finishing touch your choose, pick one that works best with your child's taste and strengths (and your mama mess index).