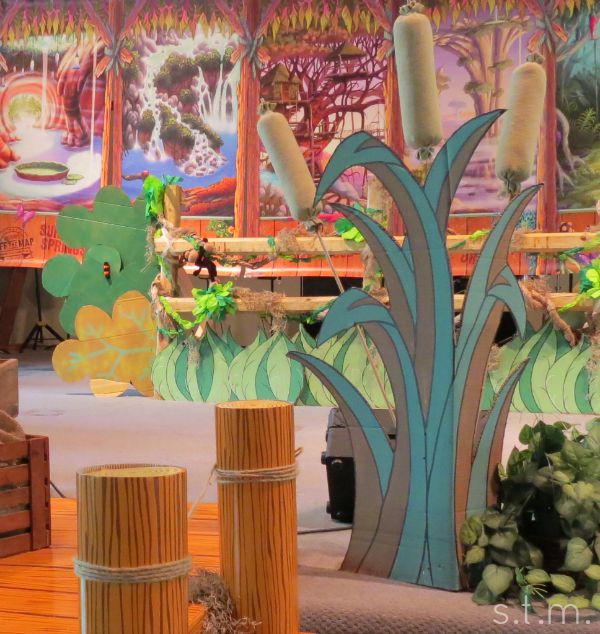 If you saw a few of my photos from VBS this year, I just know you must be asking yourself, "How do I make those adorable over-sized cattails she's got going on there?" Well, I'm so glad you asked, because the idea just came to me one day during float decorating and it actually turned out super cute. I think it's so cool when you look at something, like a pile of ugly brown flannel, and an awesome idea just springs into your head. Something about necessity and the mother of invention, I guess. Anyway, these cattails are super easy and cheap to make, and here's how to pull it all together.
Materials:
pool noodle (standard size, not the jumbo)
quilt batting
brown flannel
bamboo tomato stake
box knife
scissors
rubber band
string
Directions:
First, use the box knife (with caution) to cut a piece of pool noodle anywhere from 10-12 inches long.
Next cut a piece of quilt batting large enough to wrap around the noodle and just a tad longer.
Cut a piece of flannel material that will wrap around the noodle plus a few inches and is approximately six inches longer than the noodle.
Wrap the batting around the noodle.
Wrap the flannel around the batting and noodle.
Slide the tomato stake through the hole in the noodle, and use a rubber band to tightly adhere the flannel material to the stake, leaving an inch or two of the stake showing out the top.
Smooth any wrinkles out of the flannel and adhere the bottom using a piece of string, tying it tightly around the flannel and stake.
Trim any excess material and batting.
And that's all there is to this easy cattail project. I created three individual cattails and placed them behind some painted cardboard grass, but you can use them however you choose. By the way, our Dollar Tree stores carries pool noodles every summer, which makes this a very affordable project.