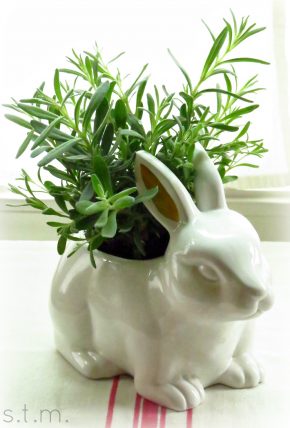 I am just so happy with my newest Easter-themed home addition that I had to share it with you today. It may not take up much space, but it sure does look cute on my kitchen counter; and for under $7, the price can't be beat.
I picked up, put down and picked up again this cute little bunny planter (although it was labeled a candy dish???) at Target several weeks ago for $3 and have been so excited for Easter time to roll around just so I could use it in my spring-themed décor. I have been trying to be more mindful of the items I purchase by visualizing exactly how and where they will be used before I actually bring them home. And since I'm in the midst of the 40 Bags in 40 Days Challenge, I am so glad this cute little guy turned out pretty close to my original vision.
I thought I might plant grass seed in the back of said little bunny, but that takes time to grow; so when I saw this perfectly sized lavender plant for less than $4 at Wal-Mart, I knew it would be a great choice. I simply repotted this wonderful smelling herb in the back of the bunny and added a bit of water. Since there isn't any drainage I'll have to be careful not to soak the plant; but when spring is finally finished and summer comes along, I'll simply transplant my lavender outdoors. Meanwhile, this little lavender bunny will cheerfully sit in my kitchen and most definitely brighten my days.