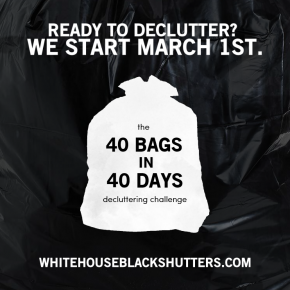 Today is the first day of Lent, which consists of 40 days leading up to Good Friday and Easter. People "celebrate" this time of sacrifice by letting go of something they value, improving upon an aspect of life or, as is my case this year, getting rid of 40 bags of clutter that is weighing down my house and weighing down my life.
Forty bags. That's one bag or box of clutter for each day of Lent. It's such a simple idea, but one that can make such a difference in your family's life. This concept comes from Marie at White House Black Shutters, and she rallies the masses for this project each and every year. I started this challenge several years ago, but didn't make it to the finish line (for whatever reason), but this year I am determined to meet my goal.
White House Black Shutters provides so many ways to achieve your decluttering goal like Facebook groups, free printables, tips, tricks, hashtags and access to a complete community of folks trying to achieve a similar goal. If you're interesting in trashing, donating or recycling 40 entire bags (or boxes) of stuff you just don't need in your home or life anymore, I urge to visit the 40 Bags in 40 Days challenge site and get started today.