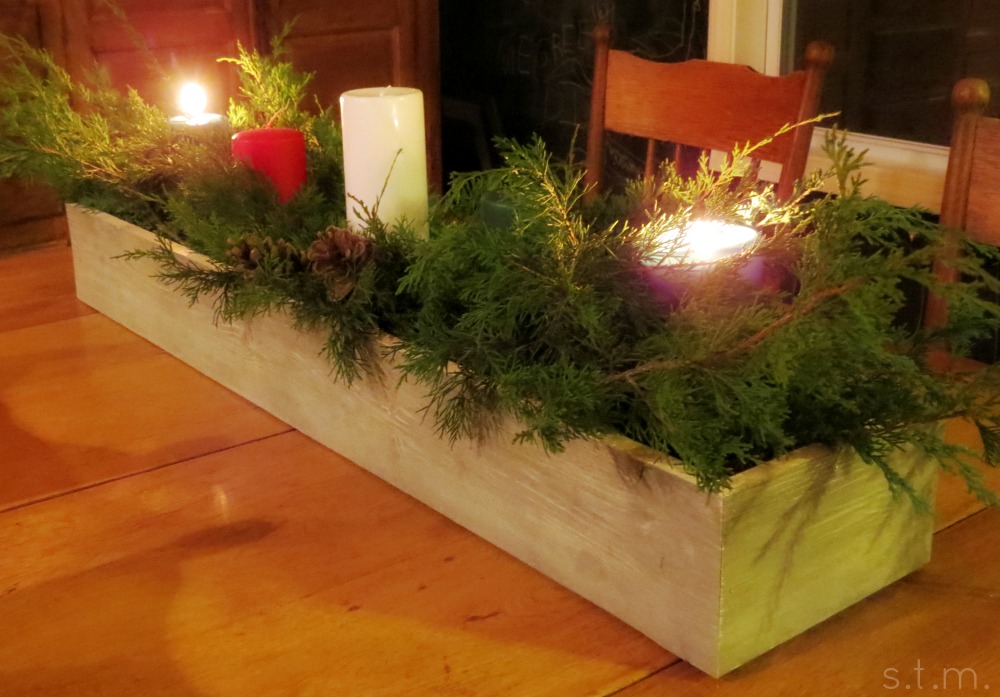 I was born and raised a Southern Baptist girl and for whatever reason we never observed Advent. Why you wonder? Well I really don't have a clue, but I can tell you that within the last fifteen years or so the Baptist Churches I've attended have started emphasizing the holy days and events on a more regular basis. I like this shift in spiritual focus and since I'm married to a Catholic boy, he appreciates it too.
One of my favorite observances this time of year is the Advent wreath and the weekly candle lighting that leads up to Christmas. This year I decided to incorporate this idea into our home and created an Advent "wreath" in a box. I know there is some significance to the round, unending shape of a wreath, but I figured a line of candles was better than no candles at all.
To make my advent box, I purchased some rough finished shiplap at Sutherland's and asked my husband cut it down to size. We assembled it with our nail gun and added a bottom of plain pine. I then added five candles (four for each week of Advent and one for Christmas day), fresh-cut evergreen bows and pinecones. Other than the size (about three feet long), it's a very understated display. It's also a great way to keep the proper focus of the season every time we sit down to dinner.
If you are interested in learning more about Advent, you might want to give it a good search or visit Lifeway's great Advent resource online. In addition to some basic information, this site also supplies a complimentary Advent worship guide and children's sermons.