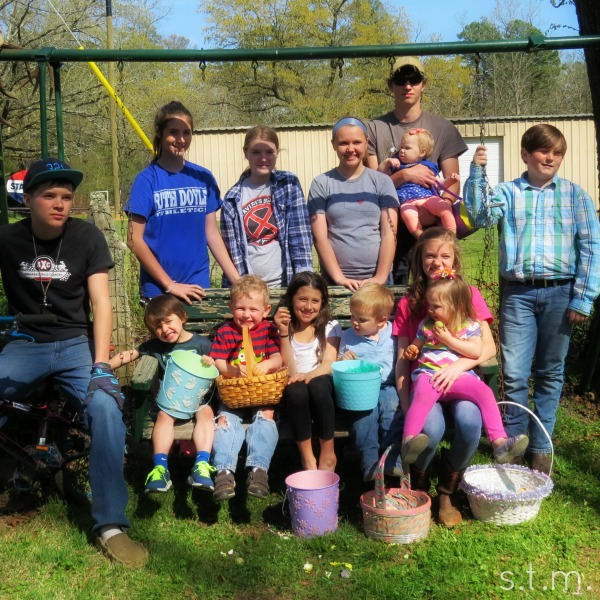 Well, another Easter in the hollow has come and gone, but we had a great time in Blue Jay with loads of family and fun (and I have dozens of photos to prove it). We made a long weekend out of the holiday celebration and managed to cram in two entire days full of playing, eating and visiting with family.
We dyed and hunted Easter eggs, played multiple games of Scrabble, played croquet, bashed a chick-shaped piñata and even got up an impromptu game of softball in the cow pasture. Ah, how we have progressed through the years — we actually used old burlap sacks instead of cow patties for the bases this year. How's that for uppity?
After not playing softball since I got married almost 12 years ago, I have to tell you that I learned a few new things about the game this year. First, I never realized that playing softball took so many muscle parts to pull it off. I am so sore from head to toe that I'm either going to have to start playing more regularly or permanently retire my bat and glove. Since I don't see the latter as a viable alternative, it looks like I'll be hunting up a few folks for a rec team soon. Run while you can.
Secondly, I still got it, but I shouldn't get it in cute little crop pants. I think I stopped every ball that headed toward me, but I'm not looking forward to washing the green smudges and mud spots off my knees. I liked getting dirty so much better when I wasn't the one shouting out the stains.
Lastly, when you play softball over the age of 40, a bathroom break is required after you run the bases. In fact, I probably could have used one before I rounded third. . . but who cares when you're focused on home.
All in all, it was a wonderful weekend for family and I have a fabulous family to celebrate. Days like these make it so easy to thank God for His blessings and for His sacrifice.