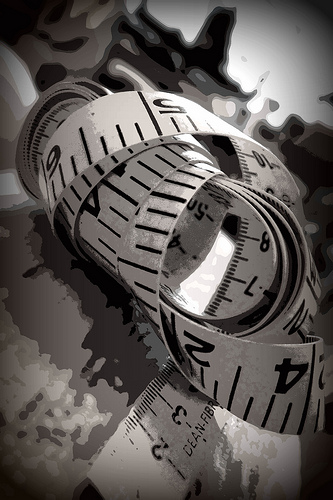 With the new year comes resolutions, goals and promises that we hope will renew our lives, transform our bodies and lift our souls. . . fast forward to February and many of us will have already thrown in the towel.
This year, like most others, I decided it was finally time to lose weight and get fit via a lifestyle change. Sounds great, eh? Kind of like all the other times I decided "The Weight is Over." I've tried time and again to shed several pounds and beef up my exercise routine (I even managed a 5k a few years ago), but I ultimately end up in the same spot with a big "F" on my report card in the subject of health. Perhaps it's the 40-something of it all, because gone are the days when I can quickly shed several pounds with a few tweaks to my diet. *sigh*
After several attempts at mastering a healthy lifestyle the same old way and getting the same result (y'all know the definition of stupid, right), I decided to take a different approach toward my goal. I looked at my personality, past successful situations and things I enjoy, and realized that a solo journey may not be the answer for me. I like to think I am strong willed and valiant enough to go this alone, after all I know what a healthy lifestyle looks like, but in reality I've always been a team player. Literally. I played softball, basketball, even a little Intramural football and I thrive on the comradery and accountability that comes with belonging to a team working toward a common goal.
Since I'm such a people person and belonging to a group suits me, I decided to adjust my weight loss approach to capitalize on the strength of numbers. So this week I decided to join the seemingly unglamorous ranks of the Weight Watchers. You know, that mysterious organization that was born before I was and has mesmerized an aunt, mother or family friend on and off throughout the years with special meetings, point counting and quirky little calculators. Yup, that's the one!
After a bit of research into popular weight-loss programs, I decided that Weight Watchers has a proven record and most closely supports the ultimate lifestyle change I'm seeking. There are oodles of success stories associated with the program and meetings are even led by folks who have "been there and done that." Plus, there is very little commitment if it doesn't seem to be the right fit (yes an emergency exit, if you will).
So I'm joining a team and pulling on a new jersey (hopefully one that will be four sizes smaller this time next year) to lean on the strength of numbers. I'll keep you posted here at Small Talk Mama on the ins and outs of it all and hopefully reveal a few lessons along the way.
If you are interested in joining me at Weight Watchers (there's a special offer valid until Jan. 8, 2018) visit them online at https://www.weightwatchers.com/us/

photo credit: ElliGill thirtynine 25062011 via photopin (license)