Yes, we are officially trying to cram as much fun into the last few days of summer vacation as humanly possible, so when my son and I were offered tickets to last night's Chiefs preseason football game while we were still making our way home from a four-day trip to Branson we naturally said yes without hesitation. My husband, who stayed home to work (somebody has to pay for our summer vacations) instead of partaking of three straight days of Silver Dollar City thought we were crazy, but after hugs, kisses and unloading our packed bags he sent us back out the door for a 7 pm game at Arrowhead Stadium.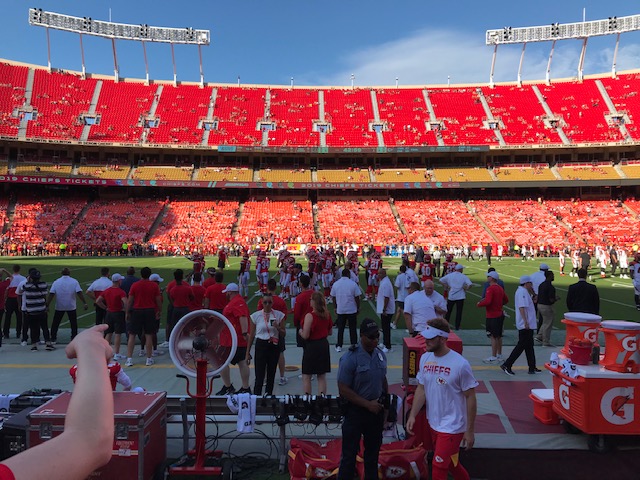 It was hot and it was sticky, but five rows back on the 45 yard line made us completely forget about the weather. My eight-year-old son had been to only one other NFL game in his life and neither of us had sat in such primo seats. It was quite a thrill! The actual game was difficult to see from that vantage point, but eh, it was preseason so the real fun was scanning the sidelines and being so close to the players that they occasionally waved, handed out high fives and signed a few autographs.
Some folks don't appreciate preseason football but I have come to see its merits, especially when it comes to kids. The crowd isn't as large, people aren't as rowdy, tickets can be had for a bargain and it's a great opportunity for young fans to catch a glimpse of the magic. My son is still beaming after he received a coveted autograph from Travis Kelce on his namesake's jersey. I thought it was super sweet that this NFL Pro Bowler wandered over to the crowd while he warmed the sideline during preseason and, with a simple swipe of a pen, made my little man's night! Heck, Mr. Kelce just might have made his year!