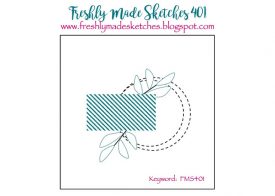 Oh my goodness, I spent an entire week cleaning up my craft room and since it was so nice and tidy I decided to whip up a little "Hey Pumpkin " card for this week's Freshly Made Sketches challenge.
With fall just around the corner, I picked a pumpkin for the focus of my card and then discovered a "Hey Pumpkin" stamp in my stash. I love it when a non-plan comes together.
I colored in the pumpkin using alcohol inks and inked and spritzed the edges with Glimmer Mist. For the sake of time, I free-handed the swirls (not my best work) with green distressed Stickles and popped up the saying for some added interest. It was a super easy card to create, and I think I might practice my swirls with some like-minded renditions in the coming days. . . as long as I can keep my craft room clean. HA!