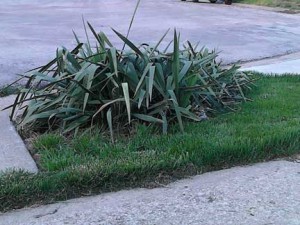 Usually when you purchase a new home that's not actually "new" (let's say, about 40 years old) spring is full of surprises. There should be some rogue daffodils and iris sprouting up about the yard somewhere, perhaps a peony or two along borders, and maybe even a few flowering bushes around the foundation.
So it makes me very sad to know our little house must have been neglected through the years, because, other than what we have planted, we only have one thing growing in our yard – it's a yucca (aptly named in my opinion). How can this be? How can there not be one spot of spring color on a whole quarter-acre lot? Besides, I thought yucca were for places like Arizona and New Mexico (although it seems to be thriving quite nicely here).
I hate to do this to any plant that seems to be loving life in its designated spot, put I'm afraid the yucca is out of here. In it's place, I'm planning a cottage garden full of vibrant color and craziness. Maybe I can find a nice "out-of-the-way spot" for transplanting this sticky spiked green thing. . . like way on out in the yard of someone else. Bye bye pointy plant, hello butterfly lovin' flowers.