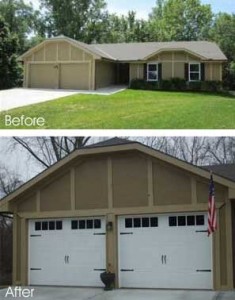 Who knew garage doors could make such a difference? Well, I had my suspicions, but I have to say I am very pleased with our purchase. One thing I can recommend is that you take your time and shop around. I was going to settle for simple white doors with windows, but discovered that for just $75.00 total (not per door) I could get the upgraded textured panels and metal carriage hardware — I'm so glad I asked.
If you don't know where to start when it comes to your garage door design, take a look at this great site I found by Overhead Door where you can upload your house photo and basically test drive garage doors of all colors, shapes, windows and price points. You can even print your design with specifications, which makes comparison shopping so easy.
Of course one thing leads to another in the world of house remodeling, and now I think we need a large carriage light above the doors instead of that tiny thing stuck between the two. I'll let you know how that one goes.