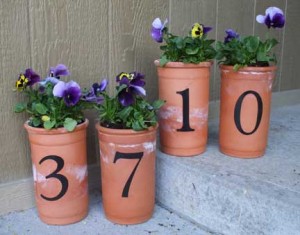 Spring is near, and I'm dressing the house appropriately. One of my favorite new projects is the house number pots shown here. I have no idea where I found this idea last year but I love it, especially since we still do not have numbers on the outside of our home. . . yes, it has been nine months since we moved. My goodness, that's long enough to birth a baby — I should probably get on this project (the numbers, not the birthing).
I found my pots on clearance at Hobby Lobby for a $1 each, but you can find them in all shapes, sizes and colors. I cut stencils for painting the house numbers using my Cricut machine and sheets of Duck Brand duct tape paper. I began painting with a coat of matte finish Mod Podge so the black paint wouldn't seep under the stencil, then followed with two coats of outdoor paint before pulling off the stencil. You can also hand-paint your pots or just use number decals or stickers.
It's easy to rotate plants as the seasons change, but the look is always inviting. I love that my pots are starting to show a bit of patina from last fall's mum planting. Just remember, it's best to bring your pots indoors for the winter to avoid breakage.