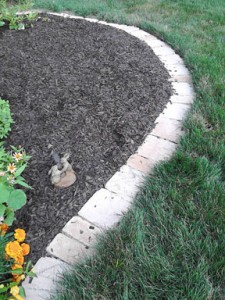 My husband confessed to me the other day that he just doesn't think he is a yard person. Which I think is ironic since he has done nothing but baby our front yard ever since planting it last year. That being said, I think I understand what he means, so I decided to help him keep our front lawn looking nice and tidy without all the hours of weed wacking that comes with such a task.
I don't remember where I originally saw this idea, but I'm so glad I did. I just created a large flower bed along the front of the house using "stone" pavers, but I set them into the ground just a bit so that the wheels of the lawn mover roll right across the top, virtually eliminating the need to trim along the edge. (Yes, honey, you may thank me, again.)
The process is simple and I completed the installation by myself in about three hours. Here are the materials I used for this project:
pavers
shovel
sand
weed block matting
I chose imitation stone pavers from Home Depot in a variety of sizes to give it a less formal look. Make sure you buy pavers wide enough to allow your lawn mover blade to cut your grass along the outside edge. I laid out my pavers exactly like I wanted them and left them their for a couple of weeks until the grass under them died, but you don't have to wait that long. It might make digging a bit more difficult, but it shouldn't be too bad.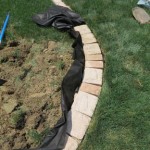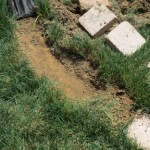 Working in small sections to keep the integrity of the border shape, I pulled up the placed pavers and laid them to the side (keeping their original order). With my shovel I dug a shallow trench the width of the pavers and the shape of the border. Make sure you only dig down far enough to make your pavers the same height as your lawn. I laid down the weed block mat and a shallow lining of sand to level out the trench. One by one, I replaced the pavers in order, using the sand to keep things level (you may have to add sand along the way). After I finished replacing all the pavers, I continued with the next section and so on.
After all the pavers were placed, I back filled (behind the black matting) any necessary spots with dirt and filled the gaps between the pavers with sand. I gave everything a good watering and voila! It really was a simple project that makes it so much easier to maintain a crisp flower bed edge. Unfortunately it's too hot to finish planting that beautiful space I just created, but it's ready for just the right day.
Shared with:
The Scoop @ Cedar Hill Ranch
Wow Us Wednesdays @ Savvy Southern Style