Christmas is only three days away and thankfully most of my shopping is complete and under the tree; even the stocking stuffers are prepped and ready. Since yesterday was my son's last day of school before the long holiday, I used it to complete all the wrapping and organizing that goes into prepping for Santa's approaching visit. Whew, it was a busy day, but now it's done.
Since I've been in the Christmas gifting mood, a writing prompt from Mama Kat's Writer's Workshop this week really caught my eye. Although the idea was phrased as the "Best or worst gift you ever received," I decided to switch it up a bit and write about the "Best AND worst gift I ever GAVE." Mind you, this is not about two gifts, just one, but since it's checking off two boxes I guess I better explain.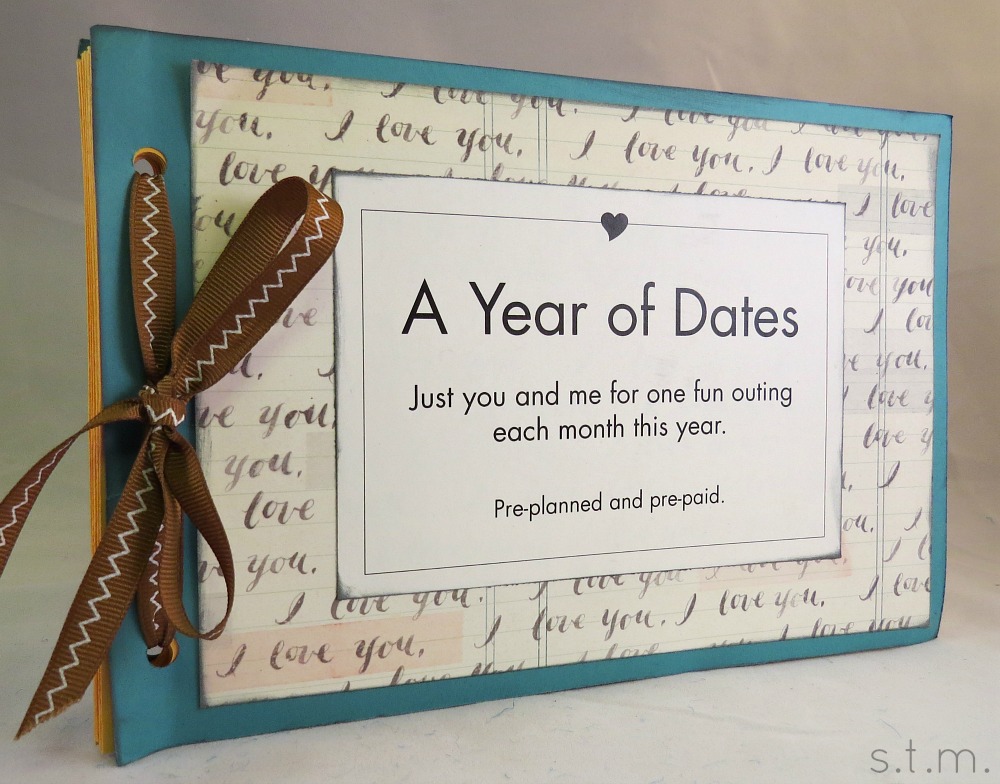 Last year I decided to create a super special Christmas gift for my husband (thank you, Pinterest). He can be difficult to buy for because he pretty much has everything he needs and doesn't ask for much of anything either. So with Pinterest inspiration in my head, I created a book of monthly dates for my man, all planned and paid. A lot of thought and planning went into pulling off this gift, and I am happy to say he loved it. He even remarked that it might be the best gift I ever gave him. *ding, ding, ding*
If you're interested in making your own Year of Dates for someone special (read warning below), but need a little inspiration, here is the list I created for my own husband. I tried to keep it affordable and interesting by using Groupons, redeemable credit card points and unique local destinations. I sorted everything in little brown envelopes and bundled those by punching two holes, tying with cute ribbon and printing labels for each month's adventure.

January: Dinner for two at Cellar & Loft Pizza in the River Market (Groupon). Hint: check the expirations on Groupons, because they may need to be used sooner rather than later. I'm glad we used this one in January, because the restaurant closed shortly after our visit.
February: A date at KC Performance indoor archery range. My husband is a bow hunter and this was a chance to do something together I knew he would enjoy. This business doesn't have gift certificates, so I printed off the webpage and put it and cash in the envelope.
March: Dinner for two at the Bonefish Grill. This outing's gift certificate was compliments of credit card points.
April: A painting class for two at Happy Trees. This was another Groupon item.
May: Ice cream at Cold Stone Creamery and back to our place for a Redbox movie of his choice. This was one of those cheaper date nights. Redbox does have gift certificates you can buy which supply you with free rental codes. It's kind of a fun gift for stocking stuffers and such.
June: Putt-putt at Cool Crest and dinner at the "Home of the Whopper." Yes, another inexpensive and silly date night via gift certificates.
July: Hooking up the boat and going fishing with snacks and drinks from QT. Simple but nice outing for the two of us that cost next to nothing.
August: Dinner and a movie courtesy of gift certificates.
September: A night's stay at a local hotel and spending cash. I purchased a Hotels.com gift certificate that allowed us to pick a hotel at a later date and added some spending cash to boot.
October: Trap shooting at the Lake Lotawana Sportsmen's Club and cash for dinner. We are both waterfowl hunters and a night of trap is both entertaining and useful.
November: Dinner for two at Red Lobster — another gift certificate courtesy of credit card points.
December: Breakfast, lunch or dinner at IHOP.
As most of you parents know, it's sometimes hard to work in regular date nights with a youngster underfoot. So I just knew this would be the ticket for some fun outings together all year long. . . and that's where it all went wrong. In January we used our pizza Groupon and March was also a winner, but by November, he simply pulled out all the unused gift certificates, food cards and cash and started using them up as a family. Our son enjoyed Red Lobster with us on a Saturday afternoon and even got to pet one of the lobster's in the tank. We rented Norm of the North from Redbox one evening and had family breakfast at IHOP a couple of weeks ago.
So as you can see, while the Year of Dates was initially a fabulous gift, the reality was that I failed to follow through on the real gift — making it all happen. With gift cards and rental codes still gathering dust in little brown envelopes a whole year later, this actually turned out to be one of the worst gifts I ever gave.