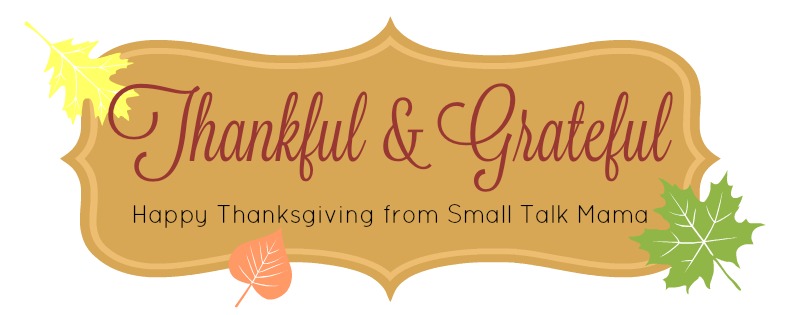 I would like to take a few moments to thank you, the readers of Small Talk Mama, for following me and my family in our daily lives of DIY, celebrations, family matters and silly stuff. I truly enjoy writing about all our adventures, but knowing that I might just touch a chord in someone else's life makes what I do so much more fulfilling. I appreciate all your comments and well-wishes, and enjoy sharing even a sliver of my life with you.
Speaking of sliver, that makes me think of pie! And since today's Thanksgiving feast will most probably end with pie, let's start the day with a few words of thanks. Now if I just started rattling off all the people and things for which I'm thankful, we could be here all day; instead, I'm answering Mama Kat's "So Very Thankful YouTube Tags" for a fun and light-hearted twist on gratitude. My answers are listed below, but please feel free to play along.
1. Name a color you are thankful for.
Pink. While I haven't ever claimed this as my favorite color, I'm quickly becoming fond of a really pastel version of this color. It makes me feel young and peaceful.
2. Something your spouse does that you are thankful for.
Doing DIY projects with me. We are in the midst of what was to be a "simple" kitchen project; and although he may shake his head at times, he mostly just does what I ask for as long as it takes. Thank you, honey!
3. Something your kids do that you are thankful for.
Enjoying school. Our little guy started kindergarten this year, and he loves to learn. I do realize the social aspect is the big draw for him, but at least the learning is a plus.
4. A food you are thankful for.
Since today is Thanksgiving, I'm going to say turkey. I love turkey! I've started buying freshly sliced roasted turkey in the deli section so that I can skip the added nitrates and preservatives. I seriously can make a meal of that stuff!
5. What recent good news are you thankful for?
I can renew my teaching certificate as soon as my completed college course grade is posted. This means I can return to the classroom next year.
6. Name a drink you are thankful for.
San Pellegrino sparkling water. I love the combination of healthy water with fizzy bubbles that tickle my tongue.
7. Name a restaurant you are thankful for.
My son and I love Chic-fil-A! We can both get a tasty meal (I love their spicy southwest chicken salad) and he gets to run off some steam in the playroom. As for the germs, I should probably buy stock in those little supplied wet wipes.
8. Talk about an animal you are thankful for.
I'm thankful for being able to enjoy our recently deceased goldfish, Spike, for over twelve years. It was such a sad day when we lost him earlier this year. He was originally purchased to be catfish bait, but after we saved him from the lake, with his black mustache and mohawk, he quickly became a member of the family.
9. Name a beauty product you are thankful for.
Natural apricot oil. It has no added bad stuff and it's great for moisturizing the entire body and removing eye makeup. I buy mine at Sprouts.
10. Name a cleaning product you are thankful for.
Norwex cleaning cloths. Using these cloths have allowed me to eliminate most harmful cleaning products from our home. My husband will roll his eyes, but at least mine aren't watering on house cleaning day.
11. What social media platform are you thankful for?
Instagram. I love photography, so this platform is perfect for a special collection of pictures.
12. Tell us why you are thankful for the last person who texted you.
That would be my husband. I'm thankful that he knows I don't always check my phone on a regular basis and that I may not see or respond to a text in an at all timely manner.
13. Name a candy you are thankful for.
Peanut Clusters, especially the homemade variety. I love the simple combination of peanuts, chocolate and nothing else.
14. Name an app on your phone that you are thankful for.
Meetup. Without this app I wouldn't be able to get to many of my MOMS Club destinations in a timely manner. . . or even remember I was supposed to go.
15. What are you looking forward to that you are thankful for?
I'm looking forward to finally cleaning out all the nooks and crannies of this house. We have lived here for over four years and I swear our storage room still looks like we just moved in; so after the new year, I'm cleaning up and clearing out loads of this stuff.
I hope you have a wonderful and blessed Thanksgiving!