So I'm finally showing off a bit of my kitchen — the "just fine" kitchen I've lived in for the last two years. I have big plans for this little brown room, but it will take quite a bit of doing; hence, the fine brown kitchen continues to exist.
But for now, there is one cheery spot in this little room (other than my son's craft projects and finger paint pictures posted on the fridge), and that is the pot rack hanging in my bay window. Now this old piece of rusty metal didn't begin life as a spot for pots, but instead was born as a . . . well, I guess I don't really know what its first life happened to be, but for me it has dutifully served as a pot rack in my last three homes.
Mom picked up this little gem somewhere in her travels when she knew I was looking for a pot rack years ago. My husband has always been a bit perplexed that I've never painted it, stressed it or changed it in any way, but I think this cute little thing is simply perfect the way it is. With the aid of a few ceiling anchors and s-hooks this metal thingy-mabob has proved to be the perfect spot for my favorite pots.
Now when you wake up on a Saturday morning searching for the coffee and this is what you see. . . you know it must have been a really good week (or you were so swamped you never even thought of doing the dishes — but I like the other option better).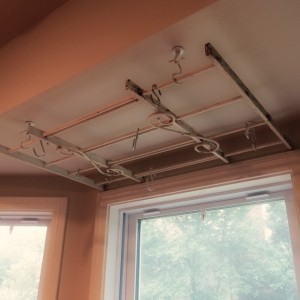 Shared at:
Vintage Inspiration Link Party
Savvy Southern Style
We Call It Junkin