As many of you may know by now, the Kansas City Royals won the World Series Sunday night, beating the Mets four games to one. It has been a thrilling time in KC for many months and Sunday's win put an end to a 30-year dry spell for our baseball team, which last won the series in 1985. Since I am a transplant to the area I wasn't around for that win in the 80s, so this year's victory was extra special to me.
So along with approximately 800,000 other people (almost twice the city's population), I and my five-year-old son ventured downtown to catch a glimpse of our heroes yesterday morning at the "ticker tape" parade. We quickly abandoned the shuttle service, which was insane, and received a ride from the hubs who was working that day. We arrived two hours early and luckily found a front-row spot amid some friendly folks and managed to amuse ourselves until the parade began.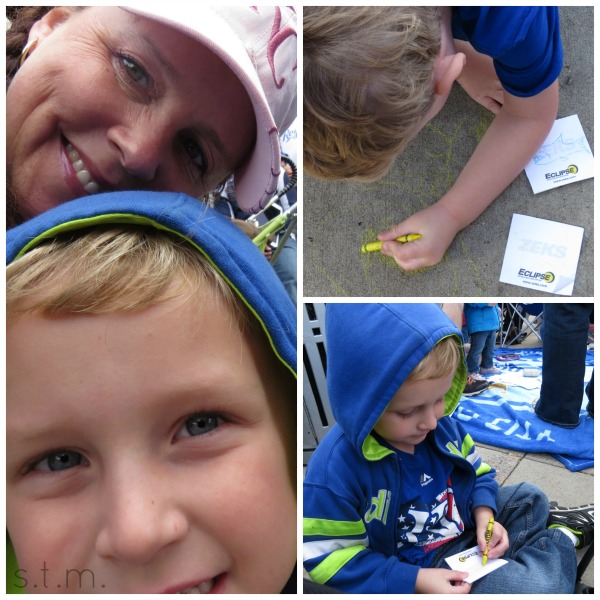 My little guy was a real trooper. The only thing entertaining on hand was a short stack of post-its and some restaurant crayons from my purse. After we went through the paper, he asked if he could draw on the sidewalk. I gave him permission to do so and he let his imagination flow during the remainder of our wait.
After the parade rolled by, we began a more than one-mile trek back through town toward my husband's work. There were cars abandoned everywhere (I mean everywhere) and people exiting the city on foot as far as the eye could see. . . and what a sea of blue it was to behold.
Some people called us crazy; some called us lucky. We didn't have to go. No one would have faulted us. But this might be a once-in-a-lifetime opportunity for my son and me; and although he may not have understood the magnitude of what was happening, I have the pictures that one day will prove that we were there and we were "Royal."