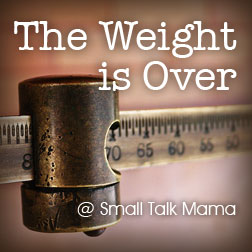 I haven't shared my "weight is over" progress for a month now; because, frankly, there's absolutely nothing to report. I mean nothing. I haven't lost a single pound of my overindulging holiday weight and I'm still not any closer to running another 5k or wearing a bathing suit sans shorts and a t-shirt.
Let me tell you, when your family spends a couple of days at Great Wolf Lodge in February (Christmas gift from Mimi), it's a real wake up call when you squeeze your lily-white self into a bathing suit and your chubby thighs hang out one end and your back fat squishes up over the other. TMI? Well it's the truth. I donned a pair of shorts and a saggy wet t-shirt through the lazy river and down every water slide for nearly two days straight.
Maybe I've finally hit that age where eating "better" and working out "a little" just doesn't cut it. Usually I can shed at least a few pounds just by being good, but it looks like my forty-something self will have to bring out the big guns this time around. Now I'm not sure what the "big guns" are, but I'll let you know as soon as I figure it out.