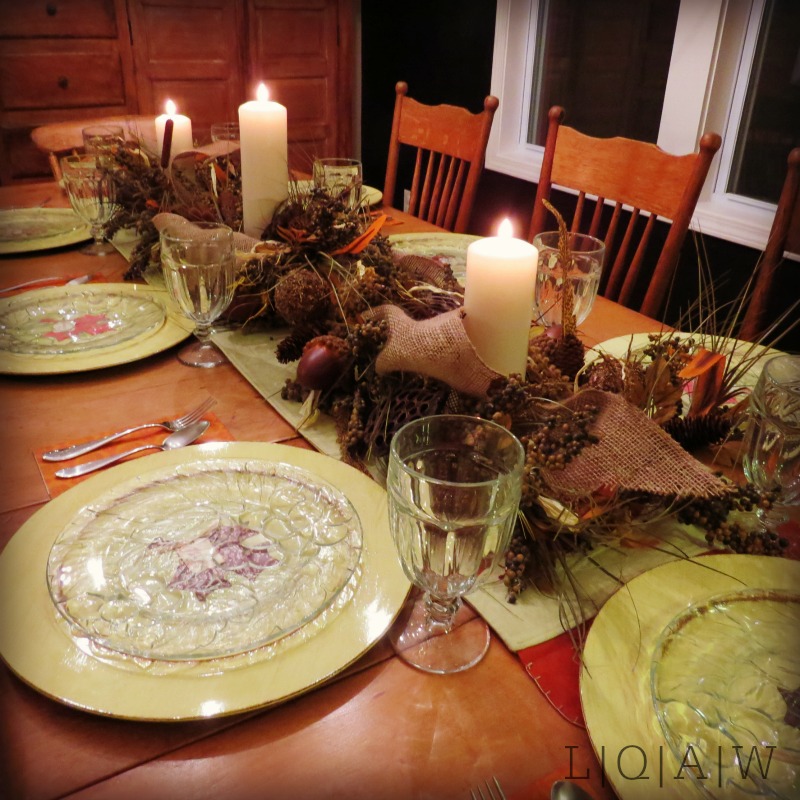 Since we're not hosting the official family Thanksgiving this year, I "wisely" raised my hand to host my MOMS Club "Thankful Potluck" event this week. Really? What was I thinking? I'll tell you what I was thinking. . . this was a good excuse to clean the house, decorate for Thanksgiving and set the table befitting this holiday like no other. Without opening my home for this fun little dinner party, I'm afraid I would have just let this holiday pass silently by while uneventfully sloppily sliding into the holly jolly of Christmas.
So I cooked a bone-in turkey breast, made the stuffing (Stove Top) and added a few appetizers and a dessert (I tried out a successful new recipe on the ladies that I'll share later). With all the other carry-in dishes, we had so much food I almost unbuttoned my pants to play games on the living room floor. It was a fun night of laughs and food (some at the same time) and I think everyone felt welcome.
While it was a scurry to make the place presentable, I'm really glad I raised my hand. Thankfully, I took my tablescape cues from last year's family gathering and was able to reuse many of the decorations and place setting ideas. I added a few new decorations around the house, but when you have a table set for friends and a beautiful fire blazing who really needs much else. That being said, here are a few photos from my Thanksgiving table. Click on images to enlarge.