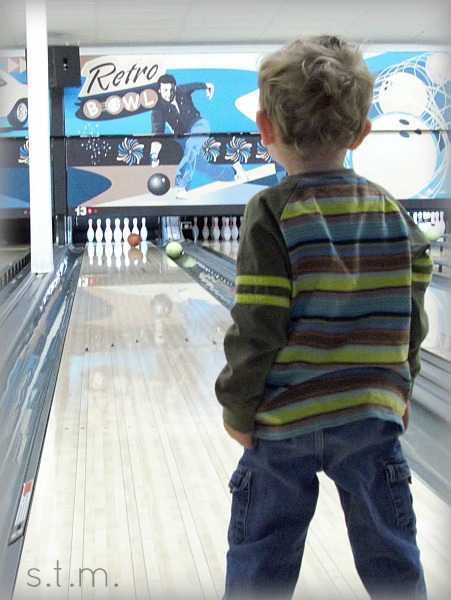 So you probably already know that last week was Spring Break here and we played host to my sister and two thirteen-year-old girls from Oklahoma. The trip was meant to be an inexpensive change-of-scenery trek, so we tried to keep ourselves busy doing fun little activities about town. One afternoon, we decided to hit the local bowling lanes for a few hours, which was my four-year-old son's first foray into the sport. Of course foot stomping, tears and frustration followed, but when the bumpers finally went up he was a happy guy (thank you bowling alley guy who saw the tears, offered the lane next door and raised the bumpers to boot).
If you notice the presence of not one, but two bowling balls in the picture, you get the idea of why he was so upset. Yes, we finally got the green ball out of the gutter and moved on to happier times. Although it was a bit stressful at first, I would definitely do it again (and I think he would too), and thanks to the Kids Bowl Free program we can surely get our fill in the months to come, and maybe even then some.
Yes, I said FREE bowling! Simply visit the Kids Bowl Free site and locate a participating U.S. or Canadian bowling alley near you. This program is designed by bowling centers to give back to the community and provide a safe, secure, and fun way for kids to spend time during the summer. Children whose age does not exceed a limit by a participating bowling center are eligible to register for two free games a day (shoe rental required) all summer long, courtesy of the participating bowling centers along with certain schools and organizations. That's an awesome deal, I'd say!
So if you're looking for us in the heat of the coming summer, we'll be enjoying the AC and knockin' down some pins at the local lanes. I hope you'll join us.