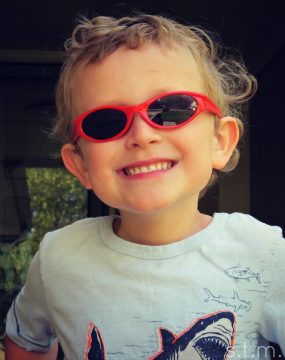 Today I dropped off my son for his last day of preschool (and I thought the first day was tough). A quick hug, watering eyes, speedy exit and several tissues later, I finally admitted my comfortable little mama-made world was about to be rocked.
As much as I want to dig my heels into this season of life, only summer separates my son from school; which means the last five glorious, fun-filled, stay-at-home-mom years will quickly become a thing of the past. I made it through Kindergarten Roundup (though I declared it "the beginning of the end"), I made it through the paperwork, and I even made it through the screening, but today I just couldn't hold it together. . . and yes, I've sufficiently soaked, dabbed and blown my way through several Kleenex just writing this little post.
The years between birth and boyhood went by so swiftly. We're talking Lightning McQueen ka chow quick! I tried my darndest to enjoy the big and little moments, the sadness and the laughter and the sick and silly days, but I still want more. I want to rock my son (all 43 pounds and 43 inches of him) to sleep at night. I want to sing more "pretty songs" before bed. I want to read more silly stories and I want to giggle until our sides are sore. So many people told me it would be a blur, and they were right. But as for this family, I seriously believe we pulled a few Gs on our way to where we are now.
I know each day holds new adventures and the future promises loads of fun, but when you have been blessed with a sensational son, a supportive family and fabulous friends, it's hard to believe that "Phase Two" will somehow live up to this mom's thus far amazing life. So tonight I'll sneak one last kiss from my sleeping child's cheek and whisper "I love you" in his ear. I think that will be enough; yes, I know that it is plenty.