Do you ever have one of those lazy summer evenings that just strike you as being special for absolutely no particular reason? Maybe it's the mere existence of a rare night with nowhere to be, perhaps it's a break in the weather, or maybe it's just a good meal off the grill together that makes these summer evenings so special. All I acknowledge is that Friday was one of these nights.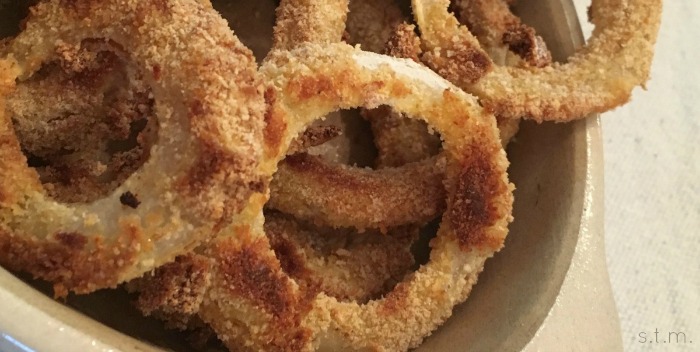 My son and I returned from our Florida family girls and kids trip on Thursday, so I spent most of Friday doing laundry, grocery shopping and catching up on emails; so when thoughts of dinner came around I decided to put my husband to task at the grill while I whipped up a batch of oven-baked onion rings. Leading up to dinner, our son had one of the neighbor boys over to play outside in the beautiful weather and by the time we accompanied him home, our little man had partaken of some good exercise, I felt a sense of accomplish for erasing all signs of vacation from our front entryway and my husband had finished a full day's work.
We sat down to dinner with a sense of accomplishment, a bit of exercise and a tasty meal of grilled burgers and rings! Maybe it was more the feeling that we deserved a bit of rest after the deeds of the day, but for whatever reason this was certainly a special, yet unremarkable, lazy summer night.