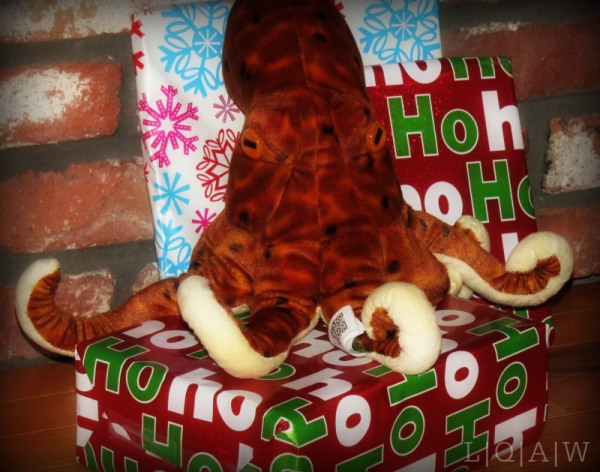 I get it now. . . I get the overnighted skates from Canada, I get the paying twice the price, I get the waiting in line for hours. I even get the calling to every store in town, skipping the pleasantries and going straight to, "I need an octopus for Christmas." Yes, an octopus (preferably orange with blue spots). When your four-year-old son believes with all his might that Santa is bringing him a certain gift, a Mom will do everything she can to deliver on that dream.
My husband and I searched the stores, searched online and finally just picked up the phone and dialed. I ultimately located several octopuses, octopi, or whatever you call a group of such things at the aquarium gift shop downtown. But here was the catch — mid-afternoon, Christmas eve eve and Crown Center Plaza. Do not go there on this day. I battled the traffic but when I arrived the parking garage was full, so I parked way up the street and walked northward in the cold howling wind. (Of course by the time I made my way back to the garage entrance, it had opened once again. Grrr)
It wasn't the best of circumstances and any other day I might have thrown in the towel, but on this day I was a "Momma on a Mission" and little else mattered. I beamed with pride as I battled the throngs of people and nature's yucky attitude (or the yucky attitudes of the throngs of people), just to locate my son's only wish. I understood it, I loved it and I was, for just a moment, Wonder Mom.
I just can't wait to see the look on our son's face, if only for a few seconds, when he believes that Santa heard his request and delivered the goods. At that moment I'll swear, wearing my Wonder Mom cape and all, it was certainly worth the journey. Just don't ask me to do it again. . . until next year.