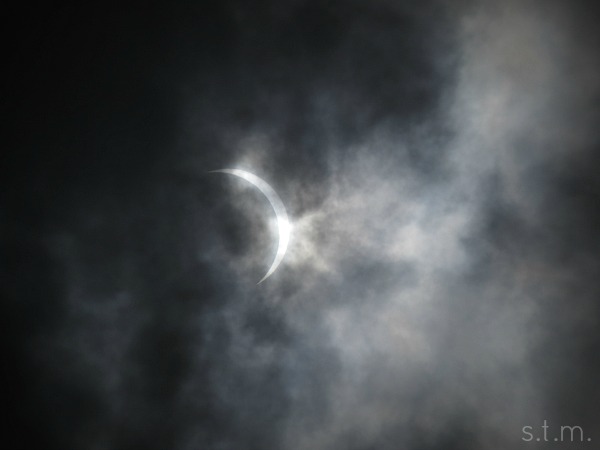 Wow, what an exciting day in Kansas City! We started the morning off with clouds and rain and polished off the afternoon with flash flooding. . . but thankfully the skies cleared inbetween so we could see today's amazing solar eclipse in all his totality.

My husband came home for lunch and eclipse viewing from our front yard, and we were both amazed at how quickly the event came and went and at how cool it all really was. Considering it will be almost 200 years before we can witness another event like this from our own front door, we decided to make the most of our ISO approved glasses (thanks Barb S.) and stare into the sky for a good long while. While we wished our son could have witnessed the event alongside us, he was making his own memories at school while staring into his own little glasses and learning all about eclipses.
Luckily, I decided to give my digital camera a go by pivoting the viewfinder so that I could look down into it while my lens pointed to the sky. I got some really fun pictures of most of the eclipse, but had to battle intermittent clouds along the way. Unfortunately, I didn't get a "totality" shot because it was only visible for a few seconds, but I did get to see it with my own silly-glasses-covered eyes and it was awesome!
I tell you, I never stop being amazed at the coolness of our vast universe, and this truly was an amazing day.