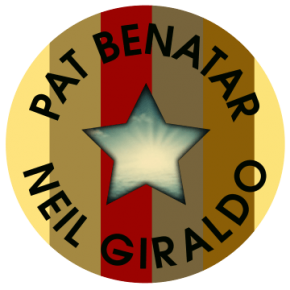 My husband gave me an awesome anniversary gift this year — tickets to see Pat Benatar. . . without him. Yes, without him. To amp up the awesomeness, he also arranged and paid for one of my best friends to drive in and go along. Maybe it's not the most romantic of gifts, but it sure ranks up there on my thoughtfulness and selfless scales.
You see, my husband isn't a big fan of this 80s rock star (sorry Pat), but he knew I really wanted to see her in concert. . . probably because we saw a big billboard along the road a few weeks ago and I said, "Oh, Pat Benatar is coming to Kansas City! I really want to see her in concert!" I don't know, but I'm just guessing that's how the idea was born.
At any rate, I'll be spending a girls night out with rock legend, Pat Benatar, and Neil Giraldo at the intimate Midland Theatre later this week (if her voice holds out) and I'm super excited. Melissa, my friend since fifth grade, seems to be my go-to gal pal when a concert is in order, and of course she never hesitates when a fun-filled girls trip is requested. I dragged her all the way to Cleveland for a U2 concert several years back, because that was the closest place I could get tickets. . . and yes, Cleveland rocks!
Now, what I don't understand is that my nieces, college- and high school-aged girls, have no idea — I mean NO idea — who Pat Benatar is and what she might sing. I bragged about my anniversary gift in front of them last week because they are concert-going girls, and all I got in return were blank stares and cricket song filling the room. They had not a clue, never heard of her, and barely recognized the lyrics to "Hit Me With Your Best Shot" when I burst into song. What?? How can this be? She's not some one-hit wonder, flash-in-the-pan singer from three decades ago. She is a four-time Grammy winning icon of the 80s who has several multi-platinum, platinum and gold albums and 19 Top 40 singles. Seriously, girls, I just don't get it!
As a prelude to the coming concert, I have decided to salute my friend, Melissa, and educate my nieces with a link to a few Pat Benatar favorites (just click on the black iTunes button below). Meanwhile, I can't wait to see one of my favorite rock stars in person and recall all the words that have been etched in my head since the 80s.