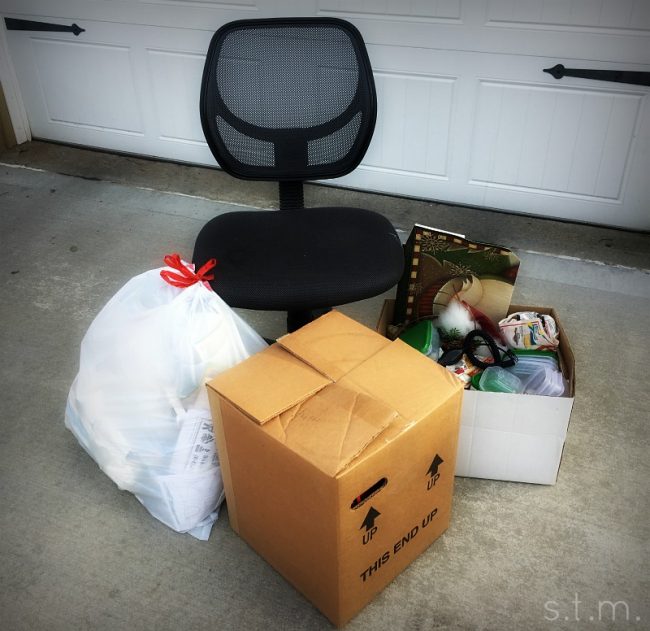 Well it's day 10 of the 40 Bags in 40 Days Challenge, and I have purged four total items from my ever burgeoning house. What? Oh yes, didn't I tell you I'm playing 4 Bags in 40 Days??? Okay, so that was not my intention, but I'm afraid I've not made much headway toward the real goal. One chair, two boxes of donations and one bag of trash — that's it!
I started out with the best of intentions and even made a list of 20+ places that needed my attention, from the guest room closet to the work bench in the garage (my husband will appreciate that one); unfortunately, I have only managed a few minor spots here and there and the only area that has been sorted from top to bottom is the six little linen drawers in my small serving table. *sigh* But I did run across some super cute dish towels and table runners I forgot I even owned. . . I didn't get rid of them, mind you, but at least I now know where to find them.
So I guess it's time to get serious about this whole 40 bags thing, or should I say 36 (I'll take those small victories where I can get them), and here's the plan. I will start in the guest room closet and work my way under the guest bed and up the stairs to my son's art closet. After that will be the office closet, my closet and the kitchen cabinets. Last but not least will be the huge storage area under the garage (yes, it's the size of the entire garage, and yes, it's full). Who am I kidding, I should just start in the storage room and be done with this project in one fell swoop. Hmm, or maybe I should just waste spend more time thinking about the best plan of attack before I jump into anything too taxing. . .