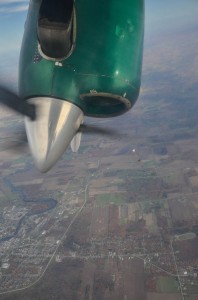 I almost got to three this weekend, as in "you better do as I say by the count of three, or else" kind of three; and momentarily, I panicked. A thousand and seven scenarios rushed through my head in just a few brief seconds as I realized I had no idea what the "else" should be for this particular offense.
You see, I've never actually made it to three, so I've never really fashioned any worthwhile punishments for any of his various acts of disobedience. In fact, for some reason just counting to the number one usually makes my little man jump to it and at worse, I've barely ever made it to two.
I'm not sure where or when he realized that counting translated to "mama means business," but it has come in very handy, especially since I only pull it out as a last resort. I mean, it worked the very first time I tried it and it has worked every time since. . . but Friday evening, in front of the grandparents, I thought I was going down in flames (and it was going to be a spectator sport). Fortunately for me, I was able to pull my chute just in time to realize that he didn't really understand my request and he was trying to comply, even if it was in a somewhat four-year-old defiant manner.
By slowing down for a quick conversation, we somehow came to a mutual understanding and were both able to float to the ground safely (and with pride intact). . . Of course I'll need to repack my chute with a little more preparation for future number threes.