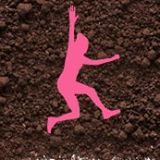 I finally put my money (and ego) on the line and registered for the Dirty Girl Mud Run taking place later this month. That means I'll be there in all my muddy glory (maybe nobody will recognize me covered in gunk) running through a barren field, climbing over obstacles and trying to keep up with my two young nieces.
This means I have less than three weeks to get myself in some sort of shape just to finish this crazy race. My husband and I boxed on the Wii Sunday evening, and geemanee I'm paying the price. Really? One round of boxing and I can barely raise my arms? I guess I just shouldn't plan on moving the day after this race.
The Dirty Girl is not a traditional 5k because it involves several obstacles throughout the course with names like H2OMG and PMS (Pretty Muddy Stuff). Still, this will officially be my first 5k and while I'm so not prepared I'm very much looking forward to it. So is my husband — he plans to get a few laughs as he cheers me toward the finish line.
There is a more serious note to every Dirty Girl Mud Run and that is the search for a cure to breast cancer. Proceeds and generous donations support breast cancer charity organizations in numerous communities across the nation; so if you would like to be a Dirty Girl, visit their website and join a run near you.