Well, I am officially celebrating the last of my 40s and if last week's birthday surprise is any indication of what's to come I am so hammering down on the birthday brakes right here folks. The day was certainly one I won't forget with a spectacular 2:30 a.m. start as my eight-year-old son woke up running a fever. A thermometer, a cool rag and a dose of Advil signaled the end of my sleep and the start of my day.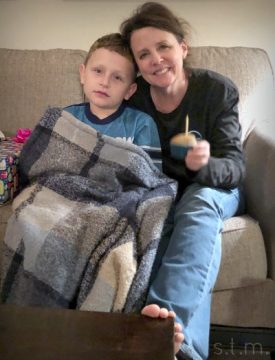 Of course I had this whole fabulous day planned out, which was slated to start with brunch, end with dinner and contain some serious shopping in between. I was going to kick number 49's tail and celebrate the day with friends, family and a little bit of myself. Sounds awesome, right? Wah-wah-wah. . .
For over a month, three girlfriends and I (my husband lovingly calls us the Fearsome Foursome) had been planning to have crepes and coffee together because one of girls who moved to Colorado earlier this year was going to be back in town. This was the day, my birthday, for us to catch up, enjoy some good food and have a few laughs without a single big boy or toddler in tow. Woo hoo (not that we don't love our little boys very very much)!! My immediate disappointment at missing this glorious girl time was only overshadowed by my little guy's illness, but thankfully my husband immediately stepped up and rearranged his own day in order to give me two hours with my friends. Yay for great husbands! So in the end, I did drink my coffee, eat my crepe and laugh with my friends; unfortunately, I also watched the clock and said some speedy good-byes but it was certainly better than nothing.
After nursing a sick kid for most of the day, I took him to the doctor and we left with a prescribed antibiotic and hopes that it would kick in quickly. Unfortunately, my child decided to redecorate the inside of my Jeep with the contents of his stomach before we ever made it home. Applesauce and pizza. . . need I say more? Thankfully my husband scored bonus points by offering to clean out my car when he got home because, as he so wisely stated, "Nobody should have to clean up puke on their birthday." Agreed! So I let him.
By evening time, we were all exhausted and our dinner plans had of course been nixed; so we stayed home, I opened gifts from my boys and I blew out a candle atop a blueberry muffin (the closest thing to cake in the house). Nothing about the day went as planned and my poor little boy was still sick, but I strangely enjoyed it all the same. . . even if my Jeep still faintly smells of carpet cleaner and pizza.