I absolutely must say that Instagram has become my favorite social media platform during the last couple of years, probably because I love to express my own self through photography so much. I can enjoy a quick look at all the quirky, beautiful, fun and amazing photographs in my feed without having to wade through all the opinions and sharp words that often come with other forms of social media. If the old saying, "A picture is worth a thousand words," is true, then I can uncover a million stories in a fraction of the time it takes to scroll through Facebook.
So in the spirit of sharing a tiny glimpse of life and welcoming the new year, I want to pass along some of my favorite Instagram moments from 2017. But before I show you my picks, I want to pass along the top nine most liked photos according to Small Talk Mama's followers and the stats. Here they are: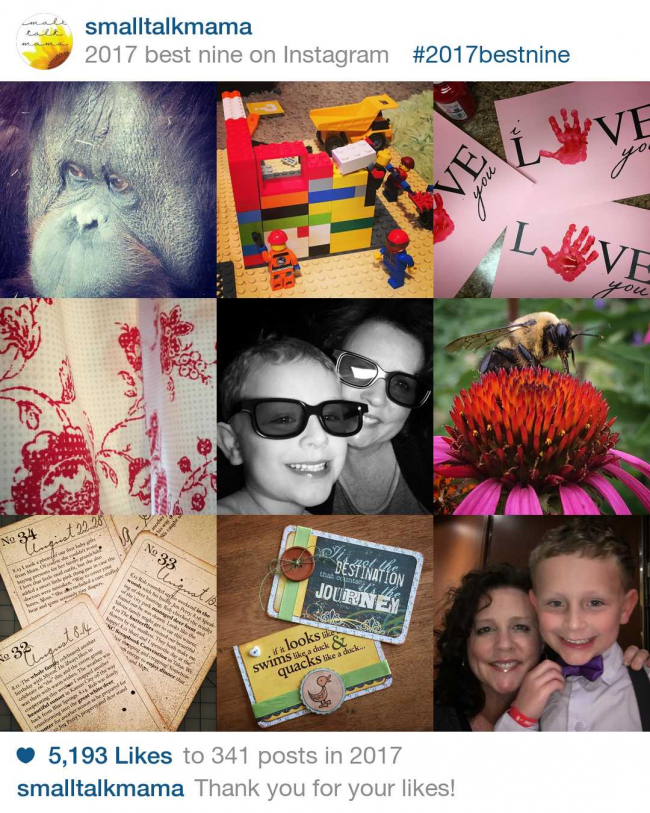 Okay, so while I don't think stats lie, I do think they often fail to tell the whole story. Some of these top photos garnered likes because they were associated with a project or challenge, which adds lots of nontraditional traffic to a particular post. . . and why a photo of my curtains made the list, I'll never know. So let's forget the data for a bit while I share a few of my 2017 Instagram favorites you might have missed. . .