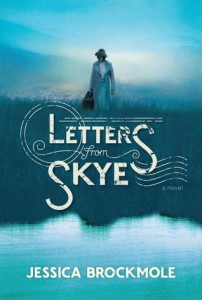 Yesterday was the first truly spring-weathered day we've had this year and what a gloriously welcomed one it was. My three-year-old son and I spent the afternoon outside picking up sticks, playing in the sand and water table and swinging. I also wielded my camera and found a few minutes to dig deeper into my current book.
Yes, I know I should have used my cold winter days for reading, but somehow when the weather warms and my options aren't limited, I find that I'm more relaxed and ready to soak in a good read. This is my second book in just a few weeks, but my first wasn't worth mentioning so I won't (it was the first of a trilogy, and I really should know better).
My current book is Letters from Skye by Jessica Brockmole, and I'm really enjoying it at about the quarter-way mark. It's a series of letters, which I usually shy from, but this one jumps across decades and is actually intriguing so far. There is a bit of mystery and love peeking its way into the pages and I kind of feel like I've stumbled upon a box full of old correspondence that has been lovingly tucked away for years. While I can't vouch for the book in its entirety, I have to say it has been a good find at the library, thus far.
What's on your reading list right now, and can you recommend a good book?