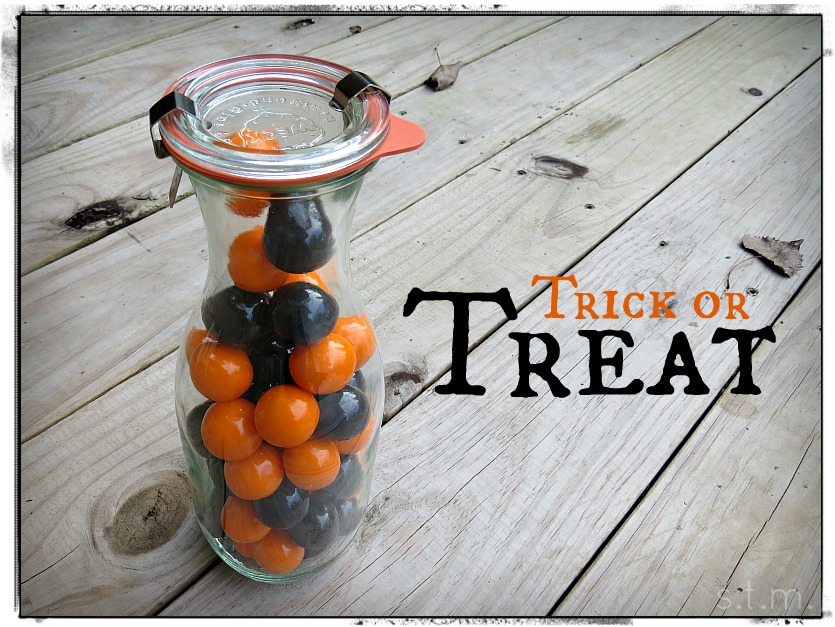 I love this milk jar turned Halloween treat, because it doubles as festive decoration and jar of yumminess perfect for your kitchen all month long. I swear I can't keep my son's hands out of it. Even if you don't normally decorate your food prep place for this spooky holiday, it's nice to add a pop of color to the room.
I originally purchased this particular milk jar filled with red, white and blue gumballs just in time for the Fourth of July, so I can't really take creative ownership of this snappy idea. Soon after summer vanished, I soaked off the manufacturer labels and decided I could fill the empty container with whatever festiveness was coming my way.
Your local party supply store most likely stocks gumballs in every color, so picking something for your holiday of choice should be easy. If you don't like gum, you can also fill it with those candy-coated colored chocolate balls or anything else holiday related. By the way, if you plan to use gumballs I suggest a jar with an airtight lid, because those little suckers can get hard as a rock when left out in the open (your dental insurance will thank me).