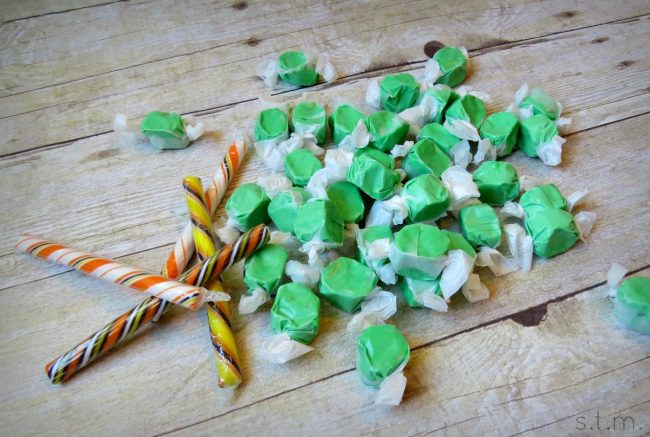 Did you happen to notice all that fun Halloween candy that filled my festive buckets in yesterday's post? Well guess what? All that yummy stuff arrived courtesy of Oriental Trading and there is plenty more where that came from. Oriental Trading has some of the cutest and most affordable Halloween treats you can find and much of it is actually on sale right now. So today I thought I would show you just a few of my favorite treats available online.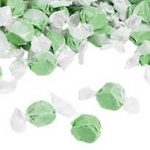 This green sour apple-flavored saltwater taffy is delicious! So good in fact, that I was afraid my stash would be gobbled up way before my photo shoot. If you like taffy this is a great choice, but there are also lots of other flavor and color options available.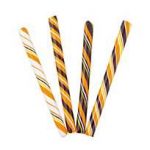 These hard candy Halloween sticks are just about as festive as a candy can get and I love the variety of colors and patterns. Right now you can get 80 sticks for less than $10. Wow! Now that's a deal.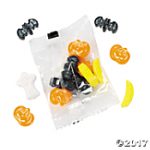 I love these Halloween-shaped candy fun packs because they are the perfect addition to goody bags, class parties or trick-or-treat bags. I haven't actually tasted them, but they sure are super fun to look at!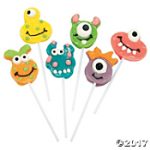 What kid wouldn't like to find a goofy monster lollipop in his/her Halloween bag? I think these little guys are adorable!!
With the big Trick-or-Treat day just two weeks away, you still have time to stock up, save and have it delivered to your door step. It doesn't get any easier than that!
Oriental Trading sent me some of these products used in this project for review,
but all opinions are my own.