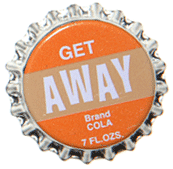 I'm counting down the days until my annual trek to Sparks, Kansas (literally a wide spot in the road), for the latest installment of their fall antique and flea market. If you have been a reader for a while, you know what a fan I am of this shindig, and I've been attending for years now.
The huge trash and treasure sale is being held September 3-6 this year along K-7 and 240th Road. Just head north from Hwy 36 and you can't miss it. Sadly, my sister won't be tagging along for this venture, but I've arranged a sleepover at grandma's for my little one and I'll still be hitting the road just past the crack of dawn. (Come to think of it, I'm so glad my name's not Dawn.) Booths open between 7:00 and 8:00 am and close by 6:00 pm.
I think the best parking is in the back, as long as it's not raining — if it's sloshy and you're not driving a 4×4, you might think about parking elsewhere. Of course, it looks like the weather beings are calling for hot and humid temps, so you might want to think about Dawn's crack as well. If you arrive early there are a couple of spots that serve breakfast, and tons of places to grab lunch or snacks throughout the day.
I'll be wearing my Small Talk Mama shirt, so if you see me, be sure to say, "Hey!"